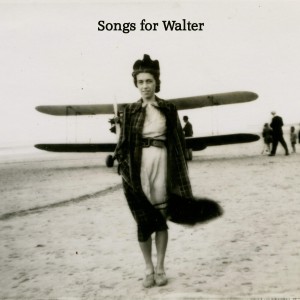 It's been a busy time for Laurie Hulme. The guitarist has a new album out with his band Beat The Radar, but not before he released his own EP under the name Songs For Walter. While BTR deal in post-punk indie, Hulme slows things down here with a wee folky side-project. Songs for Walter are named after Laurie's late grandfather, and the six songs collected within tell tales from his life.
It might all sound overly sentimental, but Hulme has used this novel idea to construct a sepia-tinged collection of love songs – not in the usual sense but as love songs for a lost relative. Hulme carefully reconstructs his grandfather's world – his cherished family holidays to the coast, his first date with Hulme's grandmother, even their wedding day, in a yellowing family album (the limited edition CD even comes with a handful of suitably faded family photos).
The sweet opener 'Meet Me At The Empire' has already been released as a single on The Drums' label Holiday Records, but it is the poppy 'Flowers On The Windowsill' that catches the attention. At times it hints at west coast psychedelia but the whole record is more humble than that – more Morecambe than Monterrey.