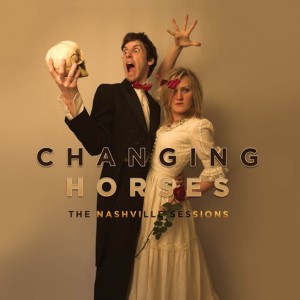 It always pays to have influential friends. And Changing Horses definitely have some of those. How else does a humble folk pairing get plucked out of Lincoln, (England, not Nebraska) and whisked off to Nashville to make their debut record with Chris Donahue, a man whose production resume also includes Emmylou Harris and Elvis Costello?
Getting the early back of Robin Williamson of psychedelic folkster the Incredible String Band – from whose 1969 album they take their name – certainly helped. But Richard Birtill and Francesca Cullen are not just empty suits living off the good will of their contacts book.
In 'Cut All Strings' they have a rollicking single that neatly encapsulates their brand of twisted country-pop, ideal for when some more members of that fast-growing network help you get it on the soundtracks to HBO documentaries.
On this EP, they show off a broader range too, flitting between the manic and the gentle, the powerful and the soft. 'Let's Go Dancing' hints at something more powerful, although Donahue's slick skills only just avoid polishing away the rough edges their character depends on.