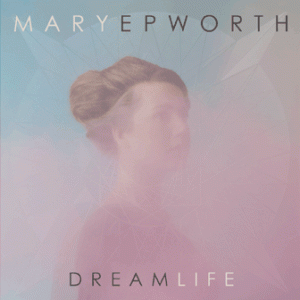 Mary Epworth has already found some success with a couple of well-received 7"s in the form of 'The Saddle Song' and 'Black Doe'. Since those singles, released in 2009, she has spent the last couple of years experimenting in a make-shift recording studio in Berlin and in a barn in Norfolk. The end result, Dream Life, emerges as something that isn't quite the consistently ethereal and woozy record that you might be expecting but nor is it conventional by any means. Instead it's a real mishmash of styles that just about works.
Ultimately, it must be hard job for Epworth to write ten more tracks as interesting and downright weird as 'Black Doe'. It's stomping, booming eccentricity makes it a hard one to top but she's certainly given it a good go. 'Long Gone' is a great all-guns-blazing opener with bursts of trumpets making it sound like more like a Jubilee fanfare than anything else. There's no shortage of drama and theatrics; the militant snares of 'Trimmed Wing' give the record a much-needed urgency half-way through and it's aided by the odd majestic flourish here and there.
There are times when the invention gets reigned in a little and, whilst they're not quite as spectacular, that's no bad thing necessarily. If anything, it gives her the chance to show off her vocals, which are strong without being too over-bearing. 'Sweet Boy' is when everything gets stripped back, without any fuzz or honks of brass, and doesn't have the same amount of shock factor but the duelling harmonies are given space to shine. 'Fill Your Dirty Soul' also goes down the ballad route and, despite its sparse nature, is an impeccable song made even better by its washed out production.
If Epworth can conjure up some downtempo moments as enjoyable and arresting as the more boisterous ones then she will prove to be a real force to be reckoned with. Still, Dream Life has plenty of promise and there are enough elements of her sound that'll win you over.
Words: Max Raymond