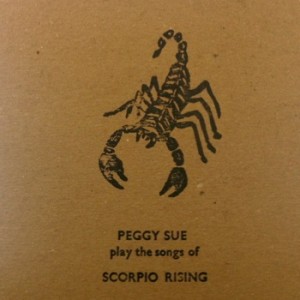 As surprises go, last week's news that Peggy Sue were releasing an album of covers within days was a pretty good one. Songs Of Scorpio Rising is a result of a special project undertaken by the band last year, when they performed a live soundtrack to the Kenneth Anger film Scorpio Rising at a showing in Hackney. The film has no dialogue or captions, relying entirely on a soundtrack of rock 'n' roll music to help tell the story.
For those of us who weren't lucky enough to be there and hear it live, we now get to hear Peggy Sue's delicious take on all those classic pop hits, and what a total joy it is.
From the opening bars of their sweeping, atmospheric version of 'Fools Rush In' – as recorded by the likes of Glenn Miller and Elvis Presley to the closing 75-second assault on 'Wipeout' this is a little treasure trove of popular classics and hidden gems.
We're treated to both sides of Little Peggy March's 'I Will Follow Him' single, with the flip-side 'Wind Up Doll' transformed from a slow ballad to a fast-moving pop song. There's a claustrophobic almost robotic reworking of 'Blue Velvet' while Percy Mayfield's classic 'Hit The Road Jack' is stripped back into something reminiscent of an old slave song, comfortably one of the best versions of this oft-covered song.
The girls seem to be having the most fun when their attacking the old jukebox classics, and their harmonies really shine on the likes of The Angels' 'My Boyfriends Back', Holland-Dozier-Holland's 'Heat Wave' and The Crystal's 'He's A Rebel'. You're going to struggle to break new ground with an album full of covers, but this is a delightful diversion while we wait for their third album.