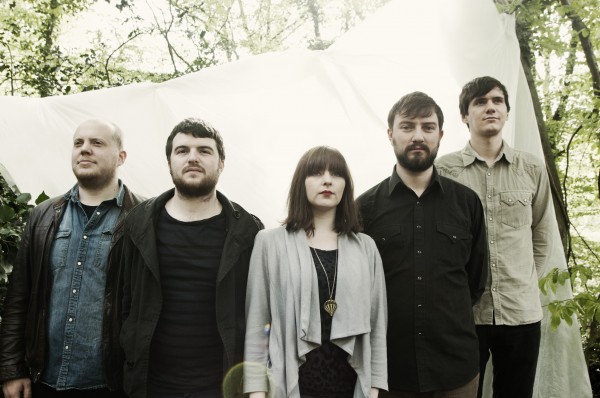 Louis Abbott, second right, with Admiral Fallow
For Admiral Fallow frontman Louis Abbott, finding time to draw breath isn't easy. When For Folk's Sake caught up with him he was enjoying a couple of days "on holiday in England", which for the Scotsman meant venturing two miles over the border into Berwick.
But the two days off we interrupted for a lengthy chat were his only rest after a six-week tour that took them on two laps around the United Kingdom, with only four days off along the way. And he was soon heading north again to kick off a summer of festivals.
All this is in support of their second album, Tree Bursts In Snow, released last month. Building on the success of Boots Met My Face, its another record full of lush instrumentation and understated anthems.
But for all the similarities, it is also an album which resulted from a totally different creative process – a changed enforced by the realities Admiral Fallow's success has created.
"It was, in comparison, a fly-by-the-seat-of-your-pants experience," Abbott said. "We'd just come off a whole summer of festivals playing the first record and we got to early September and it dawned on us we'd booked studio time for late November but had barely written anything.
"Suddenly we had to get in there and get it cooking. Although there were a few fragments of songs there wasn't much finished. It was a rush, but it was interesting to work like that. We did say to ourselves, we wouldn't force it, and if it needed more time we'd take it because we weren't under pressure from the label.
"But in the end it was recorded in a short space of time because we thought the results were pretty good."
So did everybody else. The band have only continued to grow a reputation that has already spread to the United States, where their song 'Squealing Pigs' had the honour of soundtracking a commercial shown during the Super Bowl – giving them a huge burst of exposure.
Tree Bursts is that ideal kind of sophomore album, the one that changes just enough to keep it interesting without tearing up the formula that got you interested in the first place. The rich array of instrumentation has only grown, with Sarah Hayes' accordion featuring for the first time after Abbott made the surprising discovery that she could play one.
"We were just in Sarah's house and I noticed an accordion," he said. "I asked her if she played and Sarah being Sarah, she said 'No, I'm just trying to learn'. Of course, she played it and she was fucking brilliant. She was a total beast on it so I was really keen to use it.
"But we're always trying to play different things. It can be great when you're writing new music to play something you're not all that comfortable on because you can surprise yourself with lines you'd not otherwise play. You write in a different way because you're restrained by your limited skills, but sometimes that can be good."
One of the main differences you might notice on the new album are the lyrics. Where the debut was full of personal tales from Abbott's life to date, now he's branched out to tackle broader themes. And you can blame that brutal schedule for the change.
"What my life's been about the last couple of years since the first record, it's not really been exciting fodder," Abbott said. "I've not done anything but play, record, and tour, there's nothing much to write about. I don't mean to sound like a miserable bastard, but it's been kind of non-stop for the last wee while."
It means that instead of playground bullying, you're going to hear about things like the financial crisis.
"We've had to look outside of ourselves," he said. "I still want to try and write from a personal angle as though it's an actual experience, but I've had to write as another person. The songs are not my experience, but an interpretation.
"It wasn't easy from the get-go, but I'm quite proud of the occasional line, I surprised myself I guess. I'm not trying to say it's all good, but sometimes it's nice when you're playing the songs and you get to a wee bit that you like. It keeps things interesting."
Such moments have become important of late as they play those songs night after night on marathon UK tour that took them far and wide.
"The idea was to try and take in some smaller places, anywhere that would have us really," Abbott said. "I guess it's guerilla tactics to promote the album and really put some legwork in. We've always enjoyed playing so it's not a problem for us to do a lot of shows. As long as there are people there it's reward enough.
"I'm not going to make out like we're the hardest-working band in folk or anything like that, we're really not. It's not like we're going away for two years at a time or anything like that. But being out for six weeks is a big thing for us. I realised I paid rent twice while we were away and I wasn't even there for that time. It's quite a strange thing for us."
It's a sign of how much things have changed, and when he does get the odd moment to himself, Abbott marvels at all that has happened in the two years since the band first announced their arrival with the initial self-release of Boots Met My Face.
"We were doing an interview with the Glasgow Herald at the start of the tour, and at the end the interviewer went round and asked us what the highlight of being in the band had been for each of us," he said.
"Phil just said, quite humbly, that he'd been back home speaking with his friends, and everybody was saying to each other, 'What have you been up to?' Everybody was saying how they'd lost their job or split up with their girlfriend, and he was able to say, 'We just played Glastonbury'.
"That's when it really hits home. It's easy to get caught up in it all and almost get used to stuff like that. If it had happened in the first six months, you'd have been like, 'Holy shit'. But when it's more gradual you can start to take it for granted and that's not a good thing.
"Having a period of reflection can be a really good thing."
Finding a moment to take time out has never been more important.