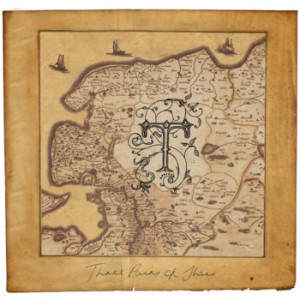 Almost two years have passed since Three Pairs of Shoes debuted with the Talybont EP and it you don't need to listen to much of their self-titled follow-up to realise plenty has changed in that time. Now on new label Rocking Chair Records, everything about this Cardiff band is suddenly bigger.
They've doubled in size, with the original trio of Matt Tilling, Iain Birkett and Livi Sinclair joined by Tom Stephenson, Katie Tilling and Katherine Evans, not to mention a host of additional musicians lending a hand across this EP.
The resulting noise is an altogether grander sound, particularly as Ben Sedgewick's trumpet elevates the stand-out From Wics To Burs to another level, or as the duelling accordion of Joe Semple and viola of Laurie Havelock add a thick atmosphere to the more traditional Reddleman.
The affects still allude to the Mumford & Sons comparisons that were brought up when we heard their opening effort in 2010, but they are maturing into something all of their own.