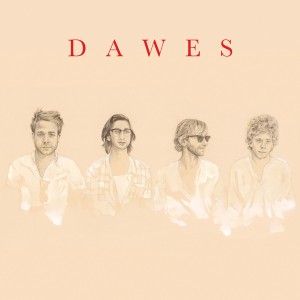 American four-piece Dawes return to our ears with the lovely North Hills. Originally released across the pond in 2009, Dawes' European fanbase was able to get their hands on their debut thanks to the breakthrough success of last year's Nothing Is Wrong.
Fusing mellow Bakersville country with Dylan-esque folk, Dawes have created a sound that is both polished but still wonderfully natural. This 'refined rawness' is in large part down to the band's decision to record the album on a 2" analog tape which is a little stroke of genius and testament to their attention to detail. It is hard to believe that this is an album that was originally recorded by four lads who had barely left their teens.
The opening number 'That Western Skyline' immediately lures you in, a beautiful ballad that showcases Goldsmith's silky vocals and the band's awesome harmonies which become such a signature sound throughout the record. 'Love Is All I Am' ups the tempo but still maintains that warm, romantic sound that would charm even the biggest cynic.
As well as being able to make a finely crafted ballad, Dawes also display the knack of creating a great up-tempo, sun-kissed country anthem. Songs such as 'When You Call My Name' and 'When My Time Comes' would be the perfect addition to anyone's summer playlist and show off the band's versatility.
The songs that really stand out on North Hills (although there are no songs that could be classed a 'filler track') are the sixties-inspired 'My Girl To Me' and the fascinating album finale 'Peace In The Valley' which presents Goldsmith as an exceptionally gifted lyricist. Although we had to wait three years for this album to come to our lives, it was certainly worth the wait. America's answer to Mumford and Sons, Dawes possess in North Hills, a beautiful collection of songs, perfectly produced and perfectly sung. A little gem of an album.
Words: Carly Goodman