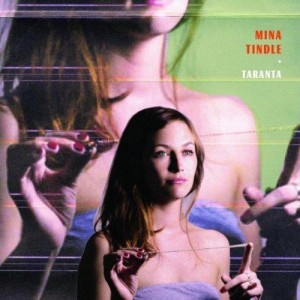 Having recently supported French superstar Camille on her sell-out tour, and with early favourable reviews of debut album Taranta, things are looking good for Parisian-born Mina Tindle. This accomplished, well-paced first offering starts with 'Bells', and a beautifully crafted (and yes, bell-like), riff over which Tindle's vocal dances and revels in its charming little quirks and oddities. 'To Carry Many Small Things' is driven by an upbeat, circus-like piano bass line more reminiscent of Camille or other theatrical newcomer, Gabby Young and Other Animals, and demonstrates a knack for writing a good pop song. Similarly, the equally catchy 'Lovely Day', with its marching beat and singalong melody, is a feel-good ray of Gallic sunshine.
Meanwhile, 'Time Writer' makes good use of vocal loops and unusual, glassy sounds that hint at a willingness to experiment à la Hanne Hukkelberg, while 'Echo' shows restraint, stripping things back to a simple guitar accompaniment and lo-fi production on which the chord change slides are discernible. Nor is Tindle afraid to sing in her native language, possibly having worked out, like Ana Silvera, that we Brits are a sucker for a song in le Français. 'Pan' conjures images of wistful romances in quaint Gallic streets while 'Demain' is a jangly, layered-cake of loveliness.
Taranta is a thoughtful, carefully pieced nugget that eschews sparseness in favour of subtle layers of sound that build to delightful choruses and head-nodding riffs. With a name taken from an Italian folk dance celebrating women who have become mad from a spider bite, we see only glimmers of this uninhibited, joyful insanity among the largely feel-good tracks. But this can only bode well for the future as Tindle's confidence grows, and doesn't detract from what is an infinitely charming, well-executed debut that is just experimental enough to set her apart from similar artists and, like a good French wine, leave us wanting more.
Words: Theresa Heath