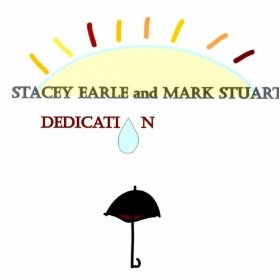 Dedication seems a fitting title for a Stacey Earle album. Steve Earle's sister has been writing and recording with her husband Mark Stuart for two decades now, playing up to 170 gigs a year and putting out albums on their own label, Gearle Records. They've always done it the hard way, and not just with their gruelling live schedule, founding that label themselves after their early recordings were all rejected by everyone else (the excellent 'Next Door Down' from 1998's Simple Gearle recounted that experience in a clear demonstration as to why those labels had been wrong).
Until now, their music has always had a playful, even goofy, sound to it, a delightful quirk to separate them from the crowd. But there is a different tone to Dedication. It comes three years after they had put a statement on their website announcing the end of their recording partnership, and you get the sense that events since then have compelled them to return to the studio.
Things changed most clearly when Earle had a phonecall from the US army to tell her that her son had been killed in Iraq. Forty-five minutes later she got a call many families are not lucky enough to receive – it was the army calling back to say there had been a mistake and he was still alive. While there may have been a happy ending for Earle, the experience strongly marks this album. 'Here Comes The Pain' and 'The Flag' most clearly recall that phonecall directly, but there is a more sombre tone throughout, constant reminders to keep close those we hold dear, and several references to the greatest sacrifices some people make.
It was not the only cause of a change of tone here though. The couple were recently gifted a 1928 Baldwin piano, and promptly put down their guitars to use the instrument to write a number of songs in a new style. 'Here Comes The Pain' is immediately followed by another sad lament, 'Here Comes The Rain' while the stand-out 'For A Long Time' brings the album towards its conclusion. There are brighter moments too. The radio friendly 'Little Rock' and upbeat 'Workin' On It' have the pair sounding more like their old selves. But this is the most melancholy album yet in Earle and Stuart's long career, and we can only hope such dark events are not needed to convince them to carry on again.