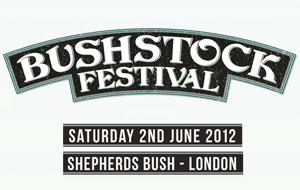 For those of you heading down to old Shepherd's Bush this weekend, we thought we'd write up a little guide of what we recommend you see: be it the good, the unknown, or our all-time favourites. This year, Shepherd's Bush will be hosting their second Bushstock Festival, taking place for the day, on Saturday 2nd June 2012. Concieved by Communion Records (home to Ben Howard, Daughter, Michael Kiwanuka, etc), the festival will reside across 4 marvellous venues: St. Stephens Church, The Defectors Weld, Ginglik, and Shepherds Bar. Music begins at 1pm, so make sure you have plenty of time to get down there, grab a drink, and most of all, have a listen.
Having had a gentle look at the final schedule, the opening act (and only act playing from 1.30pm – 2pm) is David McCaffrey. St. Stephen's church is a truly beautiful venue, and McCaffrey's simplistic yet strikingly moving acoustics melodies will be sure to warm up those musical taste buds of yours. Expect a (hopefully) sun-lit church, full of lots of quiet people, combined with echoing acoustic guitar + vocals. Not one to be missed I don't think.
Following that, I'd definitely recommend heading over to the 'Sunday Best Stage' at Defectors Weld: playing at 2pm are Dog is Dead. Not dissimilar to Mumford, Dog is Dead combine harmonious vocals with some awesome melodies, often with a touch of something jazzy in there too. Signed to Atlantic Records, and having supported Bombay Bicycle Club on their entire tour last year, I'd leave some time to check this five-some out.
Right, so Rae Morris is set to play on the same stage following Dog is Dead. I saw Morris play whilst supporting Noah and the Whale just a few weeks ago, on their Last Night on Earth tour in March/April. Quite unique; Morris sings with husky vocals not to mention a huge and wonderful vocal range. Hand in hand with her keyboard, this girl certainly stands out. Some might find her music somewhat 'samey', but her lyrics have something undoubtedly chilling about them.
This brings us up to 3.30pm, and my next chosen act was an easy pick. Nick Mulvey is due to play a half-hour set at 3.30pm, at St. Stephens Church, and I promise you now, THIS WILL BE AWESOME. Mulvey's music is hard to summarise in a sentence: he combines rasta-like acoustic guitar ( and bloody hell is he good on the guitar) with contagious vocal melodies. He once described his music on stage as "having lots of Jamaican influences", and you can certainly tell. One of his songs even has part of a D.H. Lawrence poem in it, and his music along with the setting of a church go better than a pea in a pod; so be there.
Following Mulvey, I think my next go-see tip would be Fink. Despite never hearing him live for myself, I have heard wonderful things about his performances. Fink's audience grew rapidly after he wrote a song which featured in the motion picture "Dear John", and the brighton musician released his fifth (!) album "Perfect Darkness", in 2010. His songs have a subtle darkness to them, and with a special exclusive acoustic set at the Sunday Best stage, I'd definitely try and get down to watch this guy.
Right, so, having just read through this, I realise I haven't included any kind of break from such a music-packed day. So I'll allow you an hour now to do your own thing: like  have a drink, or buy a cheeky souvenir perhaps? Anyway, at 5.30pm, playing at Shepherd's Bar we have Ellen & The Escapades. Having just released their debut album "All the Crooked Scenes" in April 2012, and having won Glastonbury's Emerging Talent Competition in 2010, the Leeds band will be performing a 1/2 hour set for all who desire to listen. I'm personally really looking forward to seeing these lot, so I suppose I can say something like "See you there".
Another one team FFS are horribly excited to see, an "all-time-favourite" if you like, is Alessi's Ark. Her lofty vocals, not to mention her lyrics, make it hard for one not to enter some strange parallel universe of thought. It also need be said that Alessi is probably one of the most wonderfully interesting people you will ever come across, ever, so if it were me: I would come even if it was just to see her on stage. Alessi will play the Sunday Best stage at Defector's Weld, at 6pm-6.30pm.
Straight after Alessi, and this means you don't even have to move (!), is Matthew and the Atlas. I saw this five-piece folk band at Greenman Festival last year, and (whilst trying to express myself as effectively as I can throughout this) would scream at you to GO AND WATCH THEM. They more or less blew me away, and their combination of traditional folk instrumentals with their vocals create something surprisingly unique.
To end this what-is-to-be marvellous day, I leave you with a difficult choice of the four final headliners of Bushstock. We have:
10pm-11pm: Daughter @ St. Stephen's Church
10.30-11.30: Bastille @ Defectors Weld
11.15- 12.15: Mystery Jets @ Shepherds Bar
10.15-11.15: Marcus Foster @ Ginglik.
This is an undeniably tough decision to make, so choose wisely, and remember that we'll all have time to see Mystery jets at the end. But for now, there you have it. A FFS short summary of what is in store for you on Saturday, so see y'all there!
P.S: If you haven't got a ticket, there are still some available. See here.
Words: Ellie Rumbold