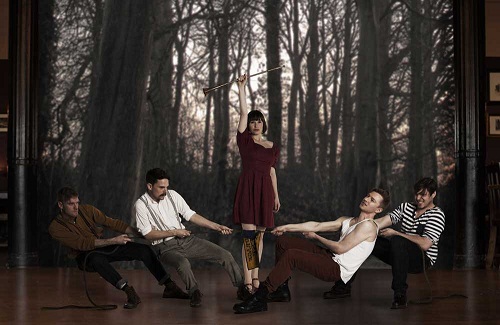 Skinny Lister are a quaint folk band with a bit of everything. Siblings, concertinas, a complementary dance troupe called the Skinny Sisters… they tick all of the folk boxes. Their music is charming and rousing and their gigs are rowdy. Even the ones that took place on canals. Their singer, Lorna Thomas, has answered some questions for us so we can get to know them a little better.
How long have you been playing together for?
Well Max and I are brother and sister so we've been playing together for quite some time. Max, Dan and Sam have been playing jigs and reels and singing shanties for quite a few years too but I suppose Skinny Lister became Skinny Lister when Dan Gray and I joined the fellas in 2009.
Could you introduce your band members for us?
Yes of course: I'm Lorna. I sing and play the ukulele, then there's Dan Heptinstall who plays acoustic guitar, stomp box and sings, there's my brother Max of course on melodeon and mandolin, then there's the shanty man Sam 'Mule'  Brace on electric guitar and concertina (yes weird mix of instruments) and then there's Dan Gray on double bass.
Do you feel your sound has changed since you started?
I think that playing live so much has influenced our writing, our current set is definitely a more lively affair than when we started out. We try to mix some of our more upbeat stuff with more calmer melodic tunes to give a broad experience for the listener.
Which current artists do you find interesting and/or inspiring?
Personally my Dad, George Thomas (Party George), has been a massive inspiration on how I conduct myself on stage. I also came across Bonaparte from Germany at SXSW who were really great to watch perform live. We're big fans of the likes of King Creosote and James Yorkston from Fifes Fence Collective. Other ones worth a mention are Young Tradition and The Pogues. It varies so much to be honest (I have a guilty pleasure liking Kelis too).
Are there any traditional/older artists you love who you feel are underrated?
Dan Hep would probably say James Yorkston, but I really think if you can make it down to a local folk club you'll really find some gems of songs and musicians who purely play for the love of playing. This tradition of playing in pubs could possibly be perceived of as being underrated I suppose.
What's the maximum number of instruments you've used in one gig, and what were they?
On a recent US tour we were joined by growing numbers of the headline act each night for our final song, till there were 8 of us on stage – that was fun! In total we've reached 11 instruments: Ukulele, fiddle, melodeon, mandolin, acoustic guitar, stomp box, concertina, electric guitar, double bass, tin whistle and banjo. It's always good fun to hear the lot going for it!
What's been your favourite gig ever?
A gig we did in Colorado in the States was great. It was at a Gothic Theatre, I stomped on some leads and cut out the sound and tore off a giant Easter bunny's head and threw it into the crowd. They went mad. Lots of fun (once the fellas had forgiven me for technical errors!)
You went to an impressive number of festivals last year. Which was your favourite, and why?
Bestival gigs are always a lot of fun! Whenever I get my dancing troupe of Skinny Sisters handing out rum and swinging everyone around it's a brilliant gig. Festibelly is always messy too.
And of the acts you saw, which most took you by surprise?
We didn't see many! We did too many to stick around more often than not. Though one act we did manage to squeeze in and enjoy was C.W. Stoneking at Larmer Tree Festival – he's got a great authentic New Orleans blues sound.
Whose idea was the canal tour? Would you do it again?
The canal idea – ours! It was amazing and yes – we'd LOVE to do it again! We travelled from Lindslade down to Camden along the Grand Union Canal playing at canal-side pubs along the way, and also managed to make an EP which we recorded on the boat. We met amazing people and really got into the boating way of life. Fun fun fun! Next step is a tall ship tour – watch this space…
How would you describe the new album in the length of a tweet (140 characters)?
If you've been to a live Skinny Lister gig and want to recapture the energy you won't be disappointed!
Which is your favourite track from it and why?
Personally I absolutely love 'If the Gaff Don't Let Us Down'. Every time I play it I can't help but start dancing even if I haven't got my red heels on! Its also my favourite Skinny video – though swimming in the English channel in December was a challenge (but fun).
If the album was a soundtrack to a film, which film would it be?
Titanic – ha!
What are your plans for the next six months?
Well we have our UK tour starting on June 1st through to June 10th and then a couple of gigs (one supporting The Blockheads, and The Old Gaffers Festival on the Isle of Wight which I'm looking forward to) and then we're off to America to play the Warped Tour. After that we'll come back to Blighty to play our favourite festivals and promote the album some more. Lots of fun stuff!
Read more about what the band are up to on the Skinny Lister website.
video