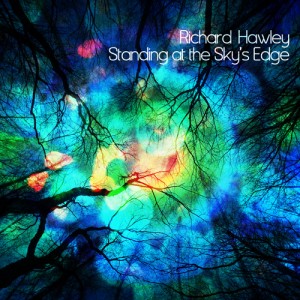 Standing At The Sky's Edge takes about a minute to annonce itself as a Richard Hawley album like no other you've ever heard before. In the 12 years since the former Longpig went solo he's carved out a career making quiet, brooding, and beautiful albums. The last of them, 2009's Truelove's Gutter, was his most sparse, intimate and nakedly tender. Standing At The Sky's Edge could hardly be any further away.
As opener 'She Brings The Sunlight' explodes into life it stands as a statement of intent – towering, bold, and mesmerising. Guitars rip like buzzsaws, Eastern strings wash over the top, drums pound away and a shocking truth is quickly confirmed: Richard Hawley has gone psychedelic. This is speaker-filling, mind-blowing, earth-shaking stuff. Sheffield's humble workaholic is no longer happy to stand back in the shadows – he sounds angry and he wants you to know it. To hear this noise burst forth from Hawley must be what it was like when Dylan first went electric.
And he's only getting warmed up at that point. 'Down In The Woods' sees Hawley ramp up the guitars another notch for a searing slice of garage rock which sees him trying to entice his missus out for a country bunk-up. Nobody can have forseen the day we would hear him sing anything so overtly sexual as "Won't you follow me down, down into the woods… come back feelin' good".
You may need a little time to recover from the shock before you realise that, despite everything that is different, this still bears all the hallmarks of a great Richard Hawley album. His booming baritone will never be misplaced, no matter how much distortion it is run through at times here. The dry wit of his lyrics amid tales of desolation continues to ooze out, just as long as you can make out the words amid the waves of guitar noise. His song titles have long referred to corners of his home city, and while 'Standing At The Sky's Edge' may first of all communicate that Hawley has gone space-hopping, it refers as well to the ridge overlooking Sheffield city centre that is home to one of its rougher council estates – hence a title track filled with murder and misery.
He returns to more familiar territory on the soft crooner 'Seek It' but even as the pace slows there remains an apparent edge to this album. 'Don't Stare At The Sun' starts off like a traditional Hawley ballad but don't be fooled – there's another of those vibrating guitars coming as it builds into something much bigger. 'The Wood Collier's Grave' once more shows off Hawley's outstanding talent to weave tales out of his hometown but delivers a ghostly echo unheard before.
The pulsing rhythm of 'Leave Your Body Behind You' cranks the levels back up once more, like a crashing wave releasing a tension pent up where the record temporarily slowed. And that is how this record feels. It may stand at stark contrast to all that has gone before in his career, and yet it feels like an entirely logical step, a caged bird let loose as Hawley spreads his wings and soars.