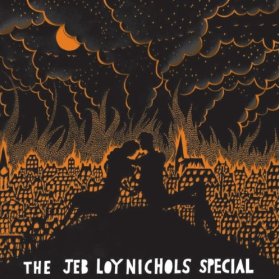 Jeb Loy Nichols' name first registered in my head about a decade ago as the man behind the virtually indispensible Country Got Soul compilations, which collected the best of that special brand of music that combines deep grooves with Southern twangs. And that is exactly the kind of music that Nichols himself has made over a 20 year career which has seen him base himself in Texas, New York, and more recently, er, Wales.
We still can't quite get our head around why he's ended up in a farmhouse in Cymru, but there, it seems, he is. Not that you can necessarily tell on his ninth studio album – the first of his to get a major label release in 15 years. This is still the music of Nashville or Muscle Shoals, drawing heavily on country, blues and funk. Nichols recruited a jazz band to back him, and that shows heavily too in these smooth songs.
While his lyrics talk of country's greats like Hank Williams and Merle Haggard, this is not necessarily their kind of country he plays – even when he's covering Haggard's own 'Going Where The Lonely Go' or Townes van Zandt's 'Waitin' Round To Die'. The only time we get close to some of that old-timey sound is on the stand-out cover of Pablo Gad's 'Hard Times', a fitting song to sing in this age of economic struggle.
But the songs that define this latest release are far from rustic. Nichols has made an album of slick, late-night sounds. 'Countrymusicdisco45' is directly responsible for the major label release after Ministry of Sound got interested. Yep – the Ministry of Sound. Hank didn't do it this way at all.