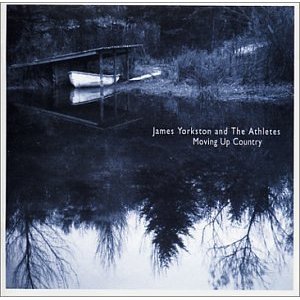 It is rare for an album to so effectively embody the mood of the location it was recorded in; yes, apart from THAT album from Bon Iver's wood cabin. Released in 2002, James Yorkston and The Athletes' debut album Moving Up Country managed this with aplomb, feeling fresh from a remote Scottish Border cottage, as a plaintive and laidback feel permeates the tracks both musically and lyrically. Critically acclaimed upon its release, Moving Up Country has been repackaged for its tenth anniversary with a whole host of extra songs, including never heard before demos and a Peel session; a treat for fans of this classic album.
The original album tracks remain as beautiful as upon release, with Yorkston capably evoking the folk tradition of sprawling instrumentation amidst an even more sprawling storytelling ability. The gentle piano tones of 'St Patrick', with a tantalising violin finish, and the opener 'In Your Hands', introduce the tender and wistful tone of Yorkston's voice amidst layers of lush sounds. The title track is imbued with a sense of melancholy, as a hushed accordion helps it slowly drift along. 'I Spy Dogs' remains an upbeat number with erratic guitar, and '6:30 Is Just Way Too Early' finishes with a flourishing organ, a testament to the capable and dynamic music created by the band on this stunning debut.
The demos for album tracks such as 'Moving Up Country, Roaring The Gospel' and 'The Patience Song' may not offer a stark contrast between the album versions, yet show the workings of a capable singer-songwriter, turning sparse demo tracks into captivating songs with dense layers of instrumentation. The never heard before demos offer much diversity, with 'Worthy Souls' bouncing and shuffling drumbeat, whilst the Peel session tracks show a band in full control of their live performance. In the jaunty 'Saviour A Saving', Yorkston claims 'I'd love to write to tell you that time has stood still'- the album, at least, has ensured time remains still and the moment of its recording remains preserved. This reissued edition aims to add to the listening experience of Moving Up Country – and what an addition it is.
Words: Adam Lowe