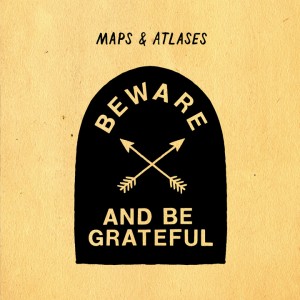 Like a heavily sugared iced chai latte – a bit too weird and way too rich for some people's tastes – Maps & Atlases are just my cup of tea. If you want to quickly fit Maps & Atlases into that mental map of all known musics, you could do worse than to think of them (on this album at least) as a much folkier version of GoodBooks and on hearing them it won't surprise you to learn they've toured with Foals, such is the obvious maths-rock influence.
But there's weirdness to Maps & Atlases that I think sets them apart from other bands of their ilk. That weirdness is less pronounced on this album than on their first. The instrumentals are more wholesome, the arrangements more streamlined. But behind the surface, Maps & Atlases still feel like a band itching not to conform, throwing out all kind of different shapes in all kinds of different directions. They're like a Mr. Men character wearing human clothes – finding a new image in which to wrap the mischief.
In short, it's an evolution, not a revolution – more danceable beats, more shades of blue note for Dave Davison's voice to stretch itself into, but maybe with slightly fewer surprises. Maps & Atlases will still be too odd for some people so beware; but for others they will be something approaching perfection – if that's you, be grateful.
Words: Tom Moyser