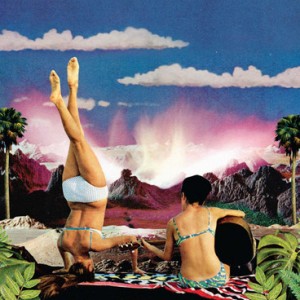 Gemma Ray returns with another delightful pop gem in Island Fire. Released at a time when many other artists are bringing out melancholy records, it is refreshing to hear such a bright and breezy effort from the London-based songstress. The anthemic opener 'Alight! Alive!' immediately grabs the listener as it blends sweeping orchestral harmonies with quirky lyrical moments.
The key to the charm of this album is its diversity. Each song stands out on its own, stretching through many different musical styles and eras. Where I find Ray is at her most effective is when she travels back to the fifties and sixties. The sweet, witty 'Put Your Brain In Gear' harks back to the days of Doris Day and Betty Everett with its 'shoop-shoop' like chorus.
Ray recorded the bulk of this album whilst stranded in Sydney during the infamous volcanic ash cloud of 2010 and this could go some way to explaining some of the titles floating around the album, like 'Rescue Me' and indeed the title of the album itself, Island Fire. But thankfully, Ray didn't allow her unfortunate situation put a cloud over the musical direction of the record (apologies for the awful pun!). Even during the mellower moments like the colossal sound of 'Make It Happen', there is still the trademark emma Ray touch which prevents the song from becoming too heavy and potentially depressing.
A personal highlight is the Bond-esque 'Troup De Loup' which sees Gemma Ray at her quirky best. Another great aspect of Island Fire is the collaboration with Sparks on the closing numbers. Witnessing two innovative musical brains coming together is a joy to behold and the two Sparks covers are a great conclusion to this album.
Some listeners may not appreciate such an eclectic collection of songs and preferred a more focused album in terms of style but I think that is what is so refreshing and enjoyable about Island Fire. Gemma Ray is gifted with an extraordinary musical brain and surely now she will receive the commercial success she deserves.
Words: Carly Goodman