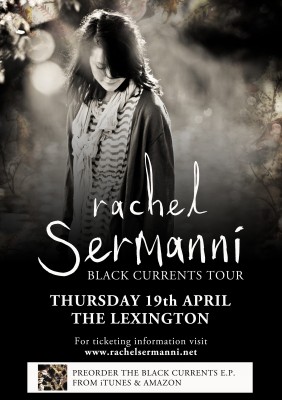 We've got a pair of tickets to give away to see the simply lovely Rachel Sermanni live at the Lexington in London this Thursday April 19th.
To be in with a chance of winning, just email* competitions [at] forfolkssake [dot] com and please include your full name.
Get your entries in to us by 11am on Wednesday. We'll choose a winner at random (via asking Brian to choose a random number, probably) and we'll let you know by lunchtime so you can plan your gig outfit (v. important)
**UPDATE** News just in that the support act will be Stevie Jackson from Belle & Sebastian.
Breathe Easy taken from Rachel's debut EP Black Currents by Rachel Sermanni
*You'll be added to the FFS mailing list, and you can unsubscribe at any time.