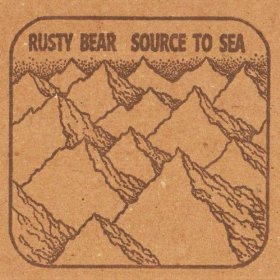 There is nothing like a great new record to herald the start of spring. The chill of winter is fading away, the sun is starting to poke its head through the clouds and music somehow starts to sounds better. Rusty Bear's charming Source To Sea is peppered with just the sort of sounds you need for lazy afternoons in the park and long sunny evenings in the pub. The title track, which kicks off the Leeds-based trio's debut release, contains all the ingredients we have come to expect from modern folk bands – mandolins, close harmonies, chiming bells, all backed by a subtle layer of chirping birdsong.
Music reviewers are often accused of falling back on lazy comparisons when analysing a new band. But with every passing track, the urge to find a place for Rusty Bear on the indie/folk scale grows stronger. So here goes – the first name that comes to mind is Fleet Foxes, who have effectively cornered the market with their form of brooding, earthy acoustics. There are also strong hints of Stornoway, Belle & Sebastian and Noah & the Whale.
So far, so 21st Century folk. But just as you are thinking you've heard all this before, there is something extra that separates Rusty Bear out from the crowd. Halfway through the album takes a de-tour. 'Tape Knot' is an awkward, jittery instrumental, all skittering drum beats, jangling percussion and haunting echoes. It's almost like the band are saying: "We are more than just flowery folk".
Having said that, the best track on the album – 'If She' – is a wonderful example of a beautifully crafted two minute love song. They say the best lyrics are the simplest, and they don't get much simpler, or sweeter, than "If she isn't worth dying for/then she isn't worth living with".
Words: Sam Blackledge