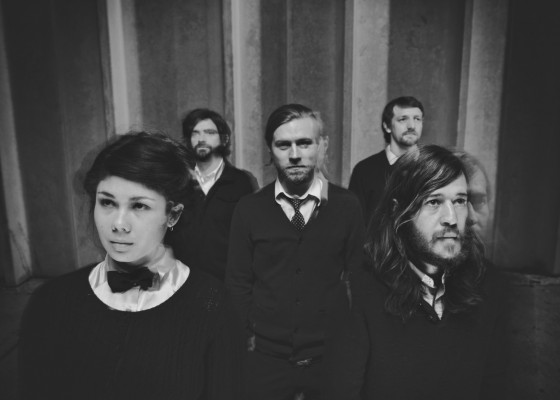 There's nothing like a live performance to make it feel like you've missed something. Last time this reviewer saw Other Lives, they were on a small stage, in a sweatbox tent at a woodland festival. A few months down the line they've been on the road with Bon Iver, they're currently taking a break from touring the US with Radiohead ("oh yeah, that whole Radiohead thing? Yeah, we're just on a break from that right now" – Imagined Frontman) and they're playing some of the most propulsive, dramatic music many of us in Village Underground will have ever seen. Something changed in Other Lives at some point.
The most evident clue to this is the fact that they have support acts now. The Magnetic North – a group so steeped in songwriter Erland Cooper's (of Erland & The Carnival fame) Orcadian background we're tempted to call them a concept band – do a fine job of setting the tone. Bolstered to a five piece for the evening, their upcoming debut's tracks are transformed from airy folk pieces into booming, orchestral beauties and, in the case of debut single 'Rackwick', '60s pop numbers, led wonderfully by multi-instrumentalist Hannah Peel's cute, shimmying delivery. It's again testament to the growth in Other Lives' stature that the band thanked them profusely when their own deserved applause had ended.
That applause began again soon enough when, Stilwater, Oklahoma's favourite folky five-piece emerged. The change was obvious from the start – Jesse Tabish and co. had no sooner waved to the crowd before they smashed their way into the screaming string intro of 'As I Lay My Head Down'. They barely let up, besides saying a humble "thank you" now and then. 'For 12' was greeted like the space-age cowboy mega-hit it should have been, 'Dust Bowl III' ("some real horseridin' shit" according to Tabish) filled every heart in the room with its singalong Morricone swagger and 'Tamer Animals' saw band members swapping instruments, joining in on the drums and just generally having a bloody good time of it all.
And while all of this went on, spotlights blazed across the stage, a video constantly displaying images of the 400 million acres of great plains that encompass the band's hearts and hometown shone against the back wall and every note soared wonderfully into Village Underground's vaulted ceiling and back down onto the crowd below. Other Lives aren't five people with some great songs any longer – somewhere on the road, they realised how to put on a show.