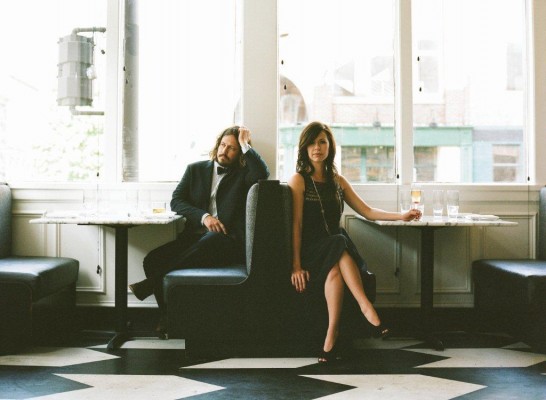 "I haven't smiled this much all week," says John Paul White as another huge cheer goes up from the cowd. "That might sound pretty sad, but…well, thanks." White and Joy Williams, the other half of the Civil Wars, have had plenty of reason to be happy of late. In the 13 months since their debut album Barton Hollow was first released in the United States, they've seen it peak at No. 1 on Billboard's digital and folk charts, and No. 2 on their rock chart. They've attracted critical acclaim across the globe, and they've picked up two Grammy awards. Not bad for two musicians who, as they describe it, were thrown together on a songwriting 'blind date' and instantly clicked while trying to rescue middling solo careers back in 2008, but no wonder they still seem overwhelmed by everything that has happened to them since.
Barton Hollow only got its UK release two weeks ago, but the long wait didn't deter eager fans from forcing this gig to be moved from the tiny Wardrobe to the mid-sized Met Student Union, where it swiftly sold out once again. We're crammed in here, hanging from the balcony above and lining the elevated sections to the side and rear. "What are you all doing here?" asks Williams as she catches her breath. "This is insane."
But White and Williams still manage to make it feel as intimate as a show in our own front rooms. Barton Hollow, a gorgeous album of troubled love and loss, could never be described as happy, but performing live the pair inject a playful joy, trying to knock each other off their stride while assuring us their apparent on-stage flirting is purely for show. "We're both happily married," White said. "To other people," Williams shoots back. She even sports the evidence in a growing baby bump. "Congratulations," one fan yells. "Thanks," she says, only for White to jump in again. "Hey, that might have been for me," he said. "I've got some good things going on too."
They both do. Their music is so intuitive that even those now discovering them for the first time feel like they've known these songs for a long time. That goes not only for the album but also some of the newer material they throw in, highlighted by 'From This Valley', a lighter, breezy track that already sounds like a country standard. They mix in a handful of covers too, including their perfectly-pitched version of Portishead's Sour Times and one of the more beautiful renditions of Michael Jackson's 'Billie Jean' you're likely to hear. The centrepiece of the set is the towering title track, 'Barton Hollow', a bluesy stomp that by the end has the crowd singing back at them. "You even know the words!" Williams laughs. They're going to have to get used to this soon.