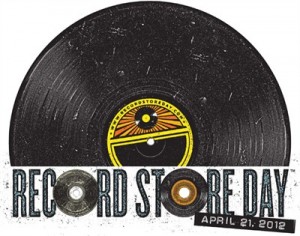 Belle & Sebastian, Richard Hawley and The Civil Wars will all release limited edition vinyl, along with The Flaming Lips, David Bowie, T-Rex and almost 200 other artists, as part of this year's Record Store Day (RSD).
An unprecedented 192 stores have already signed up to stock from the almighty RSD release list, a passing glance at which is enough to give your average vinyl collector severe and joyous heart palpitations.
Notable releases include Caitlin Rose covering two Arctic Monkeys' songs, a box set of Edwyn Collins singles, Field Music covering Pet Shop Boys and a 7″ of two woodwind Metronomy tracks.
RSD has been held every year since 2008 in the UK and has encouraged something of a vinyl revival in the country. "RSD has now become an established part of the musical calender," said organiser Spencer Hickman. "And what makes it special is the character and individuality of record stores. There's nothing to beat the enthusiasm and atmosphere of a great record shop."
And with sales of vinyl already up 40% this year, don't expect to be able to just casually walk up to your local record shop for that rare piece of plastic you so lust after. Oh no, RSD is all about the union of two great British institutions: indie record stores, and lots and lots of queueing.
John Lydon kicked off the countdown to RSD last night (March 19th), playing a secret gig in Shoreditch with Public Image Limited (PiL), who'll be releasing an EP of new tracks to coincide with the event next month. Orbital also played a DJ set while details of the day's releases were handed out to the press. You'll be able to read the full list here, later today.
Firm FFS favourites taking part include Andrew Bird, Django Django, Noah & the Whale, Beach House, Bob Dylan, Elbow, Lanterns on the Lake, Sigur Ros, Arcade Fire and Laura Marling, all of whom will be immortalised on special edition vinyl come the 21st April. See you in the queue…