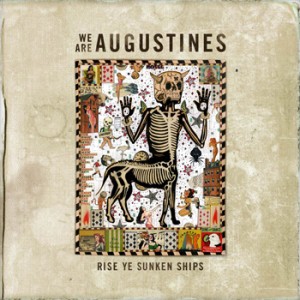 All the brawn of We Are Augustines' instrumentation could easily mask the emotional clout that Rise Ye Sunken Ships contains. The opening gambit of a four-to-the-floor drum beat and the ensuing anthemic guitar chord progression in 'Chapel Song' immediately defines the band as the brazened, Springsteen-savvy rock band that the Brooklyn three-piece are.
What the band has successfully achieved on their debut, however, is to make the thunderous drums and big, festival conquering riffs act as pillars, not obstructions, for McCarthy's impassioned and spirited outpourings.
McCarthy has had two family tragedies darken his life so far. His mother died when he was 19 and, in 2009, his brother committed suicide in hospital whilst bring treated for schizophrenia.
It would have been a real shame if McCarthy's lyrics – refreshing in their naturalness but heavy in sentiment (note: not sentimentality) – had been drowned out. Instead, the contrast forces a beguiling contradiction to appear between Augustines' brassy, bold instrumentation and McCarthy's vulnerable vocals and deeply autobiographical lyrics.
It takes a heart of stone to not feel the harsh resonance behind lines such as "Keep your head up kid, I know you can swim, but ya gotta move your legs", on 'Augustine', or the dismal way Billy cries "James" on 'Patton State Hospital'.
Meanwhile, 'Book Of James', the song most will be familiar with after the modest airplay it received, is a tune that cannily evokes the heart of Americana. Hats off to a record that so adeptly transported people from listening to the radio, peeling potatoes in their kitchen, to speeding down a dusty Route 66 with dry lips and the sun in their eyes.
Nevertheless, the album's unabashed fist-in-the-air rock sound will be a turn off for many. And there is a one-dimensionality to the band's well-worn template that all the song writing power in McCarthy's fists can't shift. That's not to say there aren't moments of surprise – 'Strange Days' has an undeniable pop sensibility about it, so much so that it echoes The Kinks.
And, all in all, why wouldn't McCarthy and his band prefer to face tragedy with the help of some almighty sun-scorched rock 'n' roll, rather than wallow in amongst some more fashionable lo-fi style instrumentation?
Rise Ye Sunken Ships won't win any awards for pioneering a new sound anytime soon, but a more open, honest and spirited record you're unlikely to hear in 2012.
Words: Nico Franks