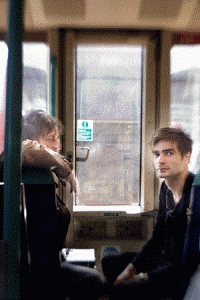 There are a lot of different reasons for going to see some lovely music. You might want to see a band live because they're perky enough that you can sing along without being ashamed. You might go in the hope that the audience will be worked into such a frenzy that you all start dancing like you're at Jedward-led zumba. Or it could be that you want to hear something so captivating that you're still a bit speechless even after making it onto your night bus home. King Creosote and Jon Hopkins make the sort of music that fits the last option very nicely indeed.
Their performance (gig doesn't seem quite the right word somehow) at the Shepherds Bush Empire was preceded by Fránçois and the Atlas Mountains, a whimsical set of French chaps whose single 'Les Plus Beaux' has been floating around the 6 Music playlist quite a bit lately. Despite For Folk's Sake's French being rustier than that drunken sailor's razor we could still tell that their lyrics mean barely anything, but what they lacked in poetry they made up for in enthusiasm, sequinned jackets and very witty little flourishes of dance moves. The most impressive and recommendable support we've seen in ages.
King Creosote and Jon Hopkins had the whole place quelled right from the off, working their way through the short but perfectly formed (and mercury-nominated) 'Diamond Mine'. The music felt constantly like the soundtrack of the most poignant scene of an indie romance, and every aspect was flawless: King Creosote's voice gliding through melodies thickened by an intense Fife accent, Jon Hopkins providing exceptionally poised accompaniment, gorgeous backing vocals from a fidgety girl who we later discovered was KT Tunstall.
Though we couldn't tell you exactly why, the whole set felt a bit less intense and emotional than we'd expected – perhaps it was all that bit too bang on – but we did get caught up in the most simple, repetitive lyric during 'Your Young Voice'. Their tracks are far from radio-friendly, even for an alternative audience, so these guys are unlikely to be filling arenas anytime soon, but so much the better. Such performances are best for a quiet little evening when you want to just take a moment.
Ashleigh Arnott