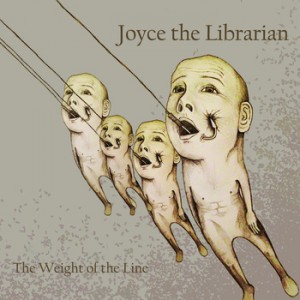 First things first, Joyce The Librarian is one of my favourite names for a band in a while, and that was before I discovered the Stilgoe & Skillern song of a sex-starved book lender they got it from. And it seems a fitting moniker too, because there is a literary quality to the Bristol group's rather fine debut EP The Weight of the Line.
Building gradually from the lengthy musical intro to 'When The Wood Comes Down', this EP is a slow-burner, but full of little hooks sometimes so subtle you might not even notice the extent to which they've grabbed you until some time after the event.
Their sound is understated but undeniably beautiful, simple guitars and flashes of cello and trumpet back softly-spoken lyrics. 'From The Foot of Troopers Hill' is played to a marching beat almost whispered as it is tapped out in the background, while 'Land', the boldest of the songs here, soars as horns kick in to carry the layered vocals.
The EP ends with its title track, a short but serene lament of loss that rises and falls like waves as they sing of a ship veering off course. It's all over too soon, and as the last notes fade, I'm already reaching to play it again from the start.