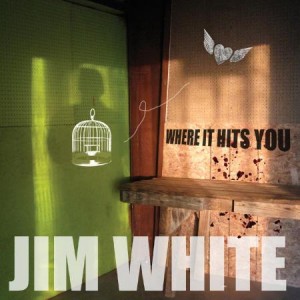 In the circles I generally move in, the name Jim White refers to Sky Sports News' rabid transfer-window hype-klaxon and professional Scotsman. In contrast to his namesake's transfer deadline-day rabble-rousing, though, this Jim White is a musically understated southern American with gentle nuances to offer.
This is his fifth studio album in addition to a host of collaborations, visual art projects and even a 2004 BBC documentary entitled Searching for the Wrong-Eyed Jesus, the soundtrack to which swells White's impressive back catalogue still further.
Where It Hits You starts promisingly with 'Chase The Dark Away', setting the ruminative tone. White's songs can offer simple, easy-going background music but bear a more attentive ear too, rewarding the listener with stories not of the deep south staples but of far more personal issues surrounding family and relationship break-ups.
The album comes almost in three chapters, thanks to its curious centrepiece of 'Infinite Mind', 'What Rocks Will Never Know' and 'Here We Go'. If they seem forcedly wacky – particularly the former – these uptempo and unconventional numbers at least make for a welcome change from the norm.
'My Brother's Keeper' marks the shift back to "plan A" and the excellent 'Epilogue To A Marriage' sees White bare his soul ever more starkly as a simultaneously dark and enthralling, segmented and cohesive album draws towards a close.
Words: Tom White