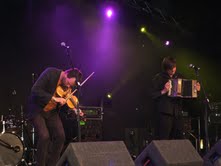 Fondly known as one of the hardest working duos in the folk music world, John Spiers and Jon Boden were the hit of this year's Cambridge Folk Festival. Their bombastic 11-piece big band Bellowhead played a storming set in the main tent on the Friday night, displaying their unique brand of organised chaos, old folk tunes and crazy dancing.
There is a sense of the burlesque pantomime about the group's shows, with Boden taking on the role of a master of ceremonies pulling the strings to create a polished and ambitious set. Just 12 hours later Spiers (accordion, glazed expression, floppy hair) and Boden (fiddle, vocals, rugged good looks) were back on the same stage with Scottish folk due Saltfishforty.
The four musicians, who have toured together extensively over the last couple of years, fit together perfectly. The traditional Orkney charm of Douglas Montgomery and Brian Cromarty provides an amusing balance to Spiers and Boden's scruffy, punkish foot stomping. Boden managed to fit in a talk on how to run a folk club before the duo entertained the crowds on stage 2 on a sweltering Saturday afternoon.
Playing songs from their new best-of album 'The Works', the pair gave a brilliant demonstration of their talent, charm and professionalism. They have been described as mavericks, geniuses, credited with re-inventing the genre of folk and dragging it kicking and screaming into the 21st century. They have certainly been clocking up the miles, trekking up and down the country and enhancing their reputations as tireless troubadours.
Words & photograph: Sam Blackledge