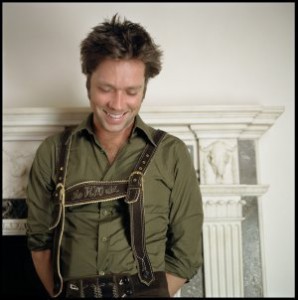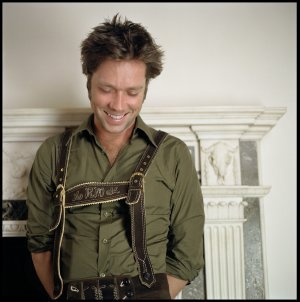 Central to the Royal Opera House's opulent setting, three words oversee the gilded balconies and small red aisles. HOUSE OF RUFUS. They refer only in part to the similarly-titled nineteen-disc boxset Rufus Wainwright released earlier this month, but more than anything these words refer to the legacy that Wainwright has created for himself. That he is the first solo artist to be offered a residency at the opera house is testament to that legacy, but perhaps more so still is that he has filled most every night of his five day stint here. Perhaps this is due to each night offering something different – be it excerpts from his opera, extended tributes to Judy Garland or collaborations with various family members.
Tonight is family night. The concert is opened by Rufus' father, renowned folk musician Loudon Wainwright III. In the history of famous fathers and sons, few have been so different than Rufus and Loudon. Whilst the former is knowingly camp and unrepentingly glamorous the latter appears onstage in plain grey trousers and a short-sleeved shirt that may well have come from the racks in a Walmart. Loudon opens with 'Rufus Is A Tit Man', much to the pleasure of the crowd. Few songs could better define the difference between the two men; a raucous folk ballad about a father and son appreciating the same woman's breasts, made strangely poignant once the son grew up, and came out as homosexual.
Loudon's set is borne out of his family, and the strange and often sad relationships that they have shared. The Wainwrights have had many troubles over the years, and it is Loudon who has been at the centre of many of these. His daughter, and Rufus' sister Martha wrote her best known song 'Bloody Motherfucking Asshole' about her father, and the two have aired their issues in duetting dialogue songs before. Tonight Martha joins Loudon on stage for the most recent of these, 'You Never Phone'. Demonstrating again the great differences between each family member, Martha skips about like a temptress between her lines, playful and effortlessly cool.
The peak of Loudon's set, though, comes by way of 'Primrose Hill', a song set closer to the audience's homes than the domesticity he sings of elsewhere. 'Primrose Hill' is a beggar's song, mournful and sad and perhaps helped by Loudon's own performance style. He is strange to watch, but impossible not to; he licks his lips between most lines and kicks his leg up and down in the sort of way that if he were a tramp would probably send you across the street fearing guiltily for your own life.
Rufus takes to the stage for the second half of the show, and treats the audience to a few of his songs, including takes on The Art Teacher and Going To A Town. The real treats, though, come with the reintroduction of his father. Standing aside each other the two could seem no more different, but it is here that their similarities emerge – a wry and dry sense of humour, a respect for the late Kate McGarrigle (the woman whose breasts they both once loved) and above all else truly phenomenal voices. This last trend is a common thread throughout the family, and when Rufus is united onstage with Loudon and with Martha and with half-sister Lucy there couldn't be another four voices on earth so perfect and yet so unique and apart from one another. Rufus twists his voice about as though his tongue was born for acrobatics, Loudon demonstrates intensity as strongly as he does vulnerability and Martha has a voice comparable with any great jazz vocalist before her. Lucy, arguably, has the purest voice of all. As the four gather around a single mic for an affecting take on 'One Man Guy' it becomes clear that despite any protestations Rufus might have, tonight we are in the House Of Wainwright.
Words: Stephen Thomas