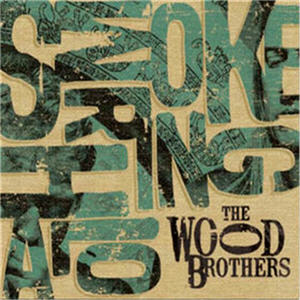 It's best to start at the end when considering the Wood Brothers' Smoke Ring Halo, as its final track is breathtaking. 'Blue and Green' is crisp, clean, and frankly as close to perfect as I have heard in recent history. It feels like the morning sun shining through dew-covered grass. It is a poignant and personal song that will surely continue to be satisfying for many listens to come. 'Blue and Green,' further, is true to the tone of the rest of the album – so not only is it a triumph of songwriting, but also an ideal capstone to a solid album.
Much of the rest of Smoke Ring Halo is equally superb. It is clear the Wood Brothers do not have a shortage of talent or mastery of their chosen instruments. It makes for an album full of delightful adornments that are sufficiently complex. That said, the true earmark of their mastery is that those complex moments fit seamlessly into more simple sections. I'm sure that these complexities provide for extended moments of enjoyment for the brothers when they play songs from the album live.
'Pay Attention' exemplifies the Wood Brothers' ability to write simple yet powerful songs. It is earnest and calm, seemingly just as much so as the moment that inspired the song: "Please pay attention to me/Was the last thing I heard before I drifted to sleep/With children to tend to, and worry in mind/Too much to do, and not enough time/I hate to be needy; Selfish and greedy/But please pay attention to me". A wonderful vignette.
Smoke Ring Halo is a welcome addition to the Wood Brothers' consistently rewarding body of work. It is a refreshingly positive album full of koans from the lives of a few committed musicians. Though it is capped off with a brilliant song, the preceding nine are also definitely worthy of your time.
Words: Paul Kellner