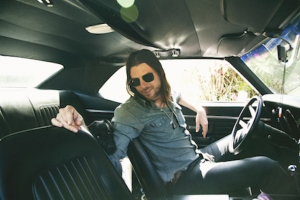 Blue Ridge mountain boy* Jonathan Wilson's first album Gentle Spirit will be released on 8th August via seemingly infallible UK label Bella Union.
Wilson is a songwriter musician and producer who has worked with Elvis Costello and Jackson Browne, who recently appeared with him at his London dates. Including one at the 100-capacity Slaughtered Lamb.
Gentle Spirit was recorded in Laurel Canyon and Echo Park in Los Angeles. Wilson says "The only theme on the album has to do with some of the words of the title track, about the desensitizing that we are exposed to on a daily basis, of all the explosions and car bombs and people in despair.
"And these things that come at you so fast that you don't have time to really concentrate on them and give them the reverence and respect they deserve. The album talks about taking some time to, you know, give humanity some kind of reverence-laden soundtrack."
Like us here at FFS HQ, Jonathan prefers physical records to mp3s. He said: "I would say vinyl is the only real tangible format that contains meaningful value and the only one you can sell to me that retains any value. And to me, that's on both sides of the table, the consumer and the artist.
"Even as a record collector I've always been vinyl-driven. With vinyl, this is when the record sounds the best and when it comes alive. To me, this project and the album represent many things tangible and even more things intangible, those that can only be felt."
Jonathan Wilson – Gentle Spirit by Bella Union
*85 points to anyone who gets the DP reference