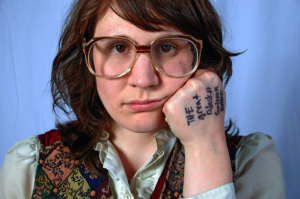 Support band Fred's House are so sweet our teeth hurt just listening to them. With smiles so sunny they could launch a thousand tubes of toothpaste, they belt out some of the cheeriest, most postive folk-pop you've ever heard. They're a talented, well-rehearsed bunch and singer Vix has a lovely bluesy note to her voice. They eventually wear down our layers of gnarled cynicism, drag us along to a place filled with sunbeams and unicorns, and leave everyone in the room smiling.
Sea of Bees, aka Julie Ann Bee, is another musical entity so adorable you want to cuddle her, but where Fred's House are as edgy as a chocolate digestive, Bee's haunting, elegiac melodies leave you in no doubt she's seen a bit of life – and boy has it hurt sometimes.
She begins with the beautifully sad 'Skinnybone' which instantly captivates the audience and sets the tone of yearning, bitter-sweet reflection that characterises most of the material. Next up is the psychedelica-infused 'Gnomes', apparently based on a beautiful red-headed girl Bee used to see working on a news-stand. You get the feeling that each song is rooted in a significant, if not life-altering moment, and the material is nothing if not personal. This is reflected in Bee's voice which is a beguiling mixture of soft cadences, yelps, half-cries, vulnerability and strength. With lyrics such as "to feel the colour of your soul right next to me", each song feels like a slice of her heart.
From here she moves through the shiver-inducing harmonies of 'Wizbot' to the the grungier tones of 'Marmalade', and more upbeat tempo of 'Sidepain'. With its nods to country and blues, this last song really brings out the country element to Bee's voice.
Juxtaposed with all this self-reflection and wistful melancholia is the on-stage banter, which is almost as delightful as the music. Bee appears to say whatever's in her head at the time and is funny, sweet and obscure all at once. She's one of those artists who, despite cultural – not to mention linguistic – differences ("My suspenders are holding up my pants") connects with audiences, who clearly adore her. This is best illustrated by the enormous, burly bloke on our right who sings and nods along to every song with a tear in his eye. Supporting guitarist Amber Padgett is the perfect foil to Bee's wide-eyed star child, being slightly more down to earth (not to mention hugely talented), and the two interact endearingly – like an old married couple.
The Californian Bee has been described as a female Sparklehorse, but vocally most resembles other nu-folk songstresses Joanna Newsom, Alela Diane and Julia Stone, with occasional echoes of Joni Mitchell and Joan Baez. Comparisons aside, there is something beautiful, original and completely unique to her voice and musical outlook which shines through on debut album Songs for the Ravens and promises great things to come from this beautiful dreamer.
Theresa Heath