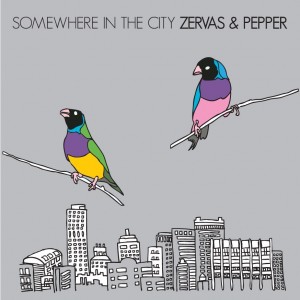 Does anyone fancy a trip through their parents record collection? Zervas & Peppers wear their influences on their sleeve, so it won't take you long listening to this to realise that said influences are Fleetwood Mac, CSN&Y, Joni Mitchell and the Laurel Canyon spirit of the early 70s (They really don't try to hide it – even the cover owes a heavy debt to Joni Mitchell's The Hissing of Summer Lawns). They don't so much offer a reinterpretation of those greats as straight-laced reproductions that sound almost trapped in a timewarp.
Kathryn Pepper's sweet voice floats across the songs she sings, reminiscent of Stevie Nicks, while there is almost something of the Eagles in the tracks where Paul Zervas takes over on vocals. They verge dangerously close to MOR at times, but then again so did their heroes and we never hold it against them for too long.
They wisely mix things up a little midway through the album, with a nod to the traditional on 'The Ballad of Shotgun Joe Collins' a welcome change of pace before CSN influences come to the fore towards the close of the collection. This is not music to get hugely excited about – I'd say nice is the word – but it's an impressive opening collection by two people reaching for some of the oldest and brightest stars.