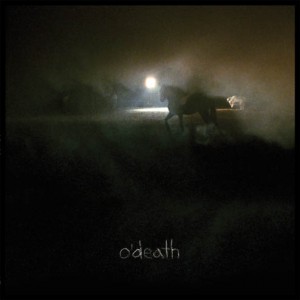 Folk-rock is given a sinister spin on Outside, the third full-length record from Brooklyn six-piece O'Death. As the band's name suggests, life – and the end of it – serves as a source of inspiration, with multiple tracks rhythmically and tonally reflecting funeral marches.
Album opener Bugs gently eases you into the record before thrilling percussion picks up the number, pulling you in and moving the tune along. The following tracks lack this light touch, but will please fans of The Decemberists and The Shins due to their insightful lyrics and mixture of natural sounds with less traditional styles such as a foreboding electric guitar.
The band are often described as makers of Americana music, but the overall sound depicted on Outside also pays homage to the gypsy genre and an altogether more English variety of folk on tracks such as midway number, 'Look at the Sun'. Occasionally a more incongruous moment occurs that takes you further afield from this pigeon-holing, with
closing number 'The Lake Departed' jarring on the ears Modest Mouse-style but lacking any kind of resonance one would expect from the aforementioned act.
Overall the album makes for a charming yet sombre, reflective listen that doesn' t break new ground, but compliments what already exists. If you're a leftfield folk, Americana or country-inclined then make time to investigate on your own time and terms. However, if you're hoping to be lifted, Mumford and Sons style, perhaps Outside isn't for you.
Words: Frankie Ward