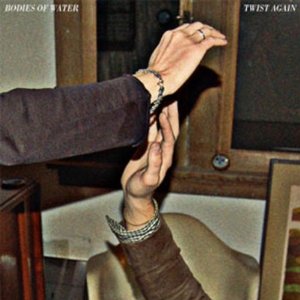 Twist Again is a bit like chocolate with chilli in it, full of unexpected combinations: the first track, 'One Hand Loves The Other', evokes orchestration by Philip Glass spliced with Nancy Sinatra vocals, and the result is endearingly demented. 'Triplets' (written in triplets) is easier going, a bit sixties, smooth and sweet, telling the story of a life in reverse ("Now all my grandparents rise up from their grave"), cheery as a Polaroid of a childhood holiday. 'Mary, Don't You Weep' reminds me of Iggy Pop's 'Nightclubbing'; 'Ever With Us' has uncanny echoes of Lou Reed's 'Perfect Day', and 'Lights Out Forever' is like a medieval ballad.
Just as you think you're getting a handle on them, Bodies of Water will veer off on a tangent, but overall the sound is retro and flamboyant, moving between Nick Cave and the Rocky Horror Picture Show. 'Just Like A Stranger' is especially fun, the kind of song a whole family could bop along to, and closing track 'You Knew Me So Well' reminds me strongly of Twin Peaks, like a lot of music I've listened to lately; there seems to be a resurgence of those Lynch-like, ethereal, echoing vocals.
The whole of Twist Again sounds more like it's from my childhood than 2011, wearing the influence of Roxy Music and Lou Reed on its (ruffled) sleeves, and this is no bad thing, though the songs sometimes try to do too much: the simplicity of 'Triplets' works better than the muzak-like saxophone and bongos of 'Rise Up, Careful'. It's worth listening to Bodies of Water for their inventive playfulness and sweet male-female duets; their darting between styles makes me think they haven't fully settled into their core sound – their heartbeat – but certain songs really stand out, with a smooth, classic sound (my favourites are 'Triplets', 'Open Rhythms', 'Mary, Don't You Weep' and 'Just Like A Stranger'). Dancing fun.
Words: Becky Varley-Winter