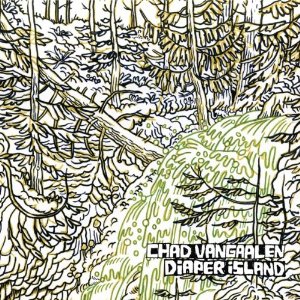 I never expected Chad VanGaalen to write a song called 'Shave My Pussy'. The artist who brought us the depressingly delicate 'Willow Tree' doesn't seem like someone who would employ that sort of imagery, but there it sits, capping off his fourth album. At first glance, it seems like an outlier on Diaper Island: even beyond its punchline-ready title, the song actually sounds more like older VanGaalen than most of this latest release (it even recalls the haunting '1000 Pound Eyelids'). But 'Shave My Pussy', like Diaper Island's other eleven tracks, is as earnest and unapologetic as the rest of his repertoire. While the new album largely trades organic folk for lo-fi rock, it hasn't lost any of VanGaalen's characteristic expressiveness.
This dedication to emotional sincerity is part of what makes Diaper Island his most cohesive work yet. It's easily the closest VanGaalen has come to a rock album; couched in reverb and distorted guitar, his captivating warble sounds airy and raw by turns. Although there are still twinges of his brand of mesmerizing folk, this stays closer to the lo-fi sound of Women's Public Strain (which VanGaalen produced) than the acoustic selections of Soft Airplane. Songs like 'Replace Me' or 'Do Not Fear' are vast and energized, while psychedelic numbers like 'Blonde Hash' are bathed in grime. Though not as 'pretty' as the folky 'Sara' or meandering 'Wandering Spirits', these grittier numbers share their compelling honesty.
Epitomized by its aforementioned last song, Diaper Island is powerfully forthright. There is nothing gimmicky or laughable about its heartfelt content, despite the chuckle-inducing titles of both song and album. Chad VanGaalen sings 'Shave My Pussy' as sincerely as he once sang about death by car crash, and Diaper Island as a whole is full of the same straightforward emotion. This new stylistic direction only solidifies VanGaalen's status as a brilliant and multifaceted songwriter.
Words: Katie Carroll