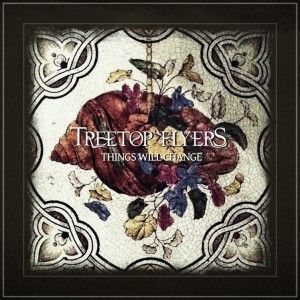 Things Will Change feels both familiar and refreshing. Familiar because folk, country and rock traditions are discernable throughout, and refreshing because of the exceptional song writing that melds these genres together. Reid Morrison's voice is soft and rough, harmonised backing vocals often joining up with it in brilliant CSNY-style swells. The instrumentation is equally good, from central acoustic guitar lines to careful piano.
Folk-rock songs dip between bright, upbeat pop melodies and quieter minor-keyed country moments. The title track is a windows-wound-down road trip song, perfect summertime listening that recalls Californian desert highways thousands of miles from its London origins. Morrison's accent undoubtedly adds to this
American aesthetic, but it is the slight off-beat country rhythms that create the overall atmosphere. 'Long Cold Winter' follows, with a chorus of layered 60s singing and tight, clipped guitar solos that lean toward garage rock. 'Rose Is in the Yard' is the highlight of the four, a combination of shuffling snare drums and soulful vocals evoking Townes Van Zandt and Gram Parsons.
'Disappearing Kind' begins with skilled mandolin and piano playing under beautiful harmonies, building up slowly to a fantastic instrumental refrain before returning to the chorus. Things Will Change showcases the band's developing writing and playing abilities – and is a sign of bigger and better things to come.
Words: Alice Knapp