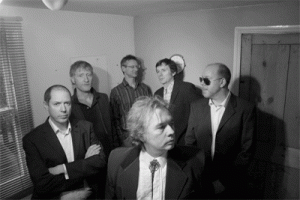 The High Llamas and their blend of summery West Coast psychedelia with a South London twist have been around for donkeys. But if, like us, you're new to them, where better to start with than a new album and a gig in London's Purcell Rooms, the kind of venue where an idiotic man shouting for everyone to 'get up and fucking dance' is frowned upon.
The five-piece took to the stage to showcase the superb Talahomie Way, along with a few of their older numbers. With the air of a band that just doesn't care about the visual bit, the collection of scuffed trainers and faded t-shirts really didn't matter. This was a gimmick-free performance – why would you need more than a beautifully haggard vibraphone, Fender Rhodes and Wurlitzer, and some other middle-aged musos to look at?
The Llamas kicked off with new album opener 'Berry Adams', immediately hitting the almost sold-out venue with their rich three- or four-part harmonies, despite admitting they never usually start a gig with new material. It was bliss: as good as the Association, but from Peckham! It paved the way for what seemed like a collection of mini epics or operas, each cascading their way through varying melodies and time signatures before coming to rest on familiar ground.
The rest of the set introduced maracas, cow bells and a tambourine duo among an occasional electro beat and wah-ed Rhodes, bringing a new dimension to what is more of a Glasgow kiss than a nod to the late 60's silky smooth and harmony-laden easy listening psychedelia. Each song was more intricate than the menu at the Fat Duck, but played with such ease that you could almost daydream yourself onto a sandy beach, supping on a Campari.
The Pet Sounds attention to detail was staggering. Numbers like 'Fly Baby Fly' and 'Take My Hand' wafted effortlessly around the perfect Sunday night ether, while older tracks like 'Cuckoo Casino' brought a certain spark to the audience of die-hard fans. To new ears, the sound is sweet and mesmerising. That said, it's definitely a particular style and there's not a huge amount of variation, which strangely, considering the musicial mastery, can make it a little samey. However, this particular crowd got the added entertainment of the annoying fuckwit mentioned earlier, who, while obviously the biggest fan in the room, royally pissed off almost everyone until he was removed to the sound of applause. We're not sure the band, a little confused by the conservatism and quietness in the room in the first place, knew what was happening!
Still, what more could you ask for to round off a weekend? Our only wish would be for the strings and horns heard on the album to be on stage, and maybe that sunshine and Campari.
Gemma Hampson