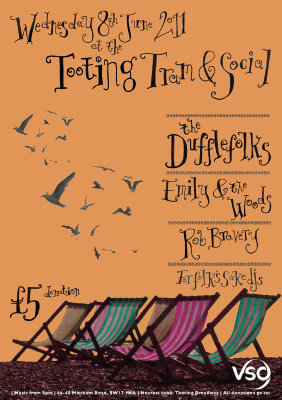 Attention Londoners (and near Londoners)!
For Folk's Sake favourites and winners of the Green Man unsigned band competition the Dufflefolks will be headlining a charity show in aid of VSO this Wednesday at the Tooting Tram & Social.
And it's good news for people who like good music, because enchanting songstress Emily & the Woods will be in support and FFS will be in attendance, spinning some of the best tunes in the WORLD in between the bands. Rob Bravery (whom we've not yet heard but, by extrapolation, he promises to be pretty great) is on first.
Entrance is by a teeny £5 donation to VSO on the door. Pop over to the facebook event and let them know you're coming.
7.30 pm Doors open
8.00 pm Rob Bravery
8.45 pm Emily & the Woods
9.30 pm The Dufflefolks
Tooting Tram & Social is on Mitcham Road, close to Tooting Broadway tube station.
VSO is an international development organisation that fights poverty through volunteers, aiming to have a sustainable impact on development in the areas of HIV/AIDS, health, education, secure livelihoods, disability and participation and governance in over 44 of the world's poorest countries.