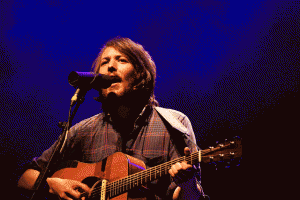 There really was no chance that Fleet Foxes were not going to deliver a stunner of a tour this year. And there was no chance that we were not going to wax lyrical about it. After being met with almost blanket adulation in return for their second album, Helplessness Blues, the fan base is certainly at its strongest, and it was not only smug music geeks (like us) that filled every nook and cranny of the Hammersmith Apollo.
Warm up came courtesy of The Bees, a charming little bundle of blokes from the Isle of Wight whose music you'll know even if the name is only vaguely familiar. These guys have been trundling out albums since 2002, but have never quite gathered the swarm of fans they deserve. A more subdued set than they've been known to muster before was a real beauty, even if it did skip their silliest but most recognisable track, 'Chicken Payback'. No matter – it was last year's single 'I Really Need Love' that we were humming on the way back to the tube station.
There are plenty of bands that have the capacity to make you blub, but Fleet Foxes get your spine tingling from the opening chords of the performance and the tears welling way, way before the big finish.  They are just that good. Robin Pecknold's voice is as flawless as it appears on their recordings, and more emotional still, while the harmonies float behind so naturally that you forget it's two long-haired men creating them.
The boys' two albums melded into a structured set much more efficiently than expected, although they cleverly kept their most low-key early track, 'Oliver James', for the encore. Album tracks and singles were all equally mesmerising, and even the remarkably excitable crowd of the Apollo stood in hypnotic, silent awe of each song's rendition before bursting into the most sincere and intense applause.
One of the most striking aspects of the performance was certainly the band's extraordinary musical talent. From the rich dynamics of 'Helplessness Blues' to the determined electric mandolin solos in 'Bedouin Dress', there are sound qualities that most musicians never even manage to dream of. Despite such complex combinations, somehow everything becomes bundled into an expression of emotion that even a child would pick up on.
That "difficult second album" syndrome has clearly passed Fleet Foxes by. They're probably just too busy making glorious music to be bothered by media speculation. And isn't that the way it should be? If only every gig gave us goosebumps from beginning to end.
Words: Ashleigh Arnott
Rather brill photo: Anika Mottershaw