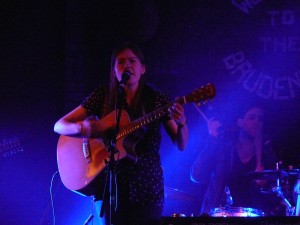 This is far from the first time FFS has seen Alessi Laurent-Marke perform live, but it might as well be. The shy girl whose last two gigs in Leeds were the lowest of low-key affairs in the corner of a noisy bar, Alessi stumbling over her lyrics as she performed alone, has gone. The artist who charmed us with her quirks, with an infectious smile audible in her music, has grown up.
In her place is a young woman, stood before us with the full Ark, and ready to give us a performance more befitting of her talent. Perhaps it's having her band with her, but Alessi is noticeably more confident than she has appeared in these parts before. Her banter with the crowd is more than just laughing at her herself: "This is a bit like Vegas, with all the lights," she declares. "We've fucking made it. Celine Dion's got nothing on us." There's no way on earth we'd have heard this kind of thing at the Nation of Shopkeepers last year.
With this new confidence comes greater projection as she performs with authority. Having broken through as a shy teenager, Alessi is now more comfortable with who she is. Although she drops in a few old treats, 'The Horse' and 'Hummingbird' amongst them, most of the songs she plays are drawn from Time Travel, the new album that shows us the new Alessi.
She wows the Brudenell with 'Wire', 'The Robot' and the new album's standout track 'Maybe I Know'. But the shy teenager has not completely disappeared. She almost apologises for 'Must've Grown': "It's very honest," she said. "I thought I would be more grown up by now." But, as usual, she's underselling herself, because by this stage of the show, she's already proven herself to be an accomplished young artist with the world at her feet.