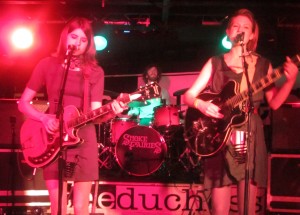 In the shadow of York's great gothic Minster, the Smoke Fairies have come to weave their magic. Their haunting, ethereal music is ideal for this ancient city. While we may, in fact, be gathered in the basement of a 1960s concrete shopping parade, we are but a hundred yards from the famous cobbles of the Shambles, remnants of an old England the Smoke Fairies evoke.
For while they may have soaked up a great many American influences on their travels, these Sussex girls create a timeless sound that fits into a tradition very much our own, a hazy, brooding romanticism that does not age.
Outside this venue is a meeting point for one of the many ghost walks that pound these timeworn streets every evening, but there is supernatural activity inside too. Jessica Davies and Katherine Blamire may call themselves fairies but they are more like witches casting a spell on their audience, the building rhythms of their songs slowly hypnotic and dazzling.
They waste no time in unleashing their most captivating weapons, opening with a powerful triple concoction of 'Devil In My Mind', 'Strange Moon Rising' and 'Summer Fades'.
The Duchess is in their palm of their hands now, with the enchantment only slightly broken by the frequent re-tuning the Fairies do between songs. But while promising to get guitar techs soon, they fill the gaps with tall tales of frightening mannequins at the Jorvik Centre around the corner. It all adds to the spooky atmosphere.
Nine months on from the release of Through Low Light and Trees, they sprinkle in two new tracks, 'Dancing Light', and another so new that nobody – not even the bass player – can tell us what it's called.
From there, they flip back to the title track of their very first EP, 'Living With Ghosts', the slow smouldering, incantation which we all fell in love with in the first place.
It keys up a finish that makes this seem, after just one album and a collection of EPs, like a greatest hits set, as 'Gastown', 'Sunshine' and 'Hotel Room' bring things to a rousing conclusion.
But they have tricks still up their sleeve, and the devastating cover of Killing Joke's 'Requiem' they perform as an encore sends us back into the night looking over our shoulders for the ancient spirits who will surely have been stirred from their slumbers.
The Smoke Fairies tour continues this week:
May 20th – ULU – LONDON
May 22nd – Glee – CARDIFF
May 24th – Joiners – SOUTHAMPTON
May 26th – Primavera Sound Festival – BARCELONA
May 28th – Evolution Festival – NEWCASTLE
Smoke Fairies picture by Natalie Marchant.