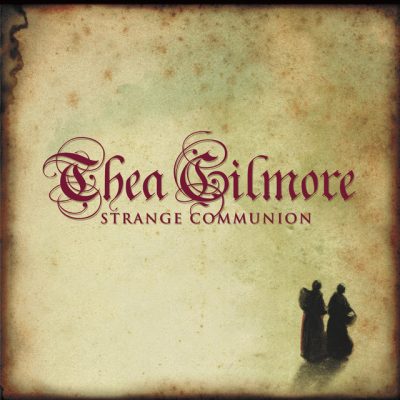 Christmas albums are a funny thing. They can be jubilant celebrations that only complement that particular artist's canon (hello, A Christmas Gift for You), crazily self-indulgent yet somehow amazing side projects (hi Sufjan Stevens), or, sadly more often than not, a misguided, cloying, and best forgotten career nadir (naming no names). In short, they are a tricky beast, difficult to get right.
They seem to work better when the theme is not strictly Christmassy but instead more seasonal, with a bit of the red and gold stuff thrown in for good measure. And to my mind, perhaps the top seasonal listening of the past decade – and one that receives regular rotation in my house each Yuletide – is Thea Gilmore's Strange Communion, eight years old and still as exquisite as on the cold November evening I first heard it.
It's a compact 35-minute set of originals and inspired covers, and far from a curio in her catalogue, for my money it is up there with the greatest of her (now many) works over the past two decades. It shares some of the sombre acoustic melancholy of its predecessor, 2008's Liejacker, but there is some real joy, humour, and depth of spirit to be found among its ten tracks.
The album's origins can be traced back to late 2004, when BBC radio presenter Janice Long, complaining of a dearth of great modern Christmas songs, challenged Gilmore to write one of her own. The gorgeous 'Thea Gilmore's Midwinter Toast', a song of delicate beauty with the simple but angelic refrain "Oh hallelujah/oh I'm home" was the result – but it took until playing it again on a US tour in late 2008 for Gilmore to decide to write a seasonal album on which it could be included.
Thus, come spring of the following year, Gilmore was furiously writing her winter material, and found herself recording it in the Liverpool heat of July. You would never guess though, as Strange Communion is as wintry as you'd want a winter album to be. It's the aural equivalent of a big jug of mulled wine – it is the sound of comfort, drawn curtains, twinkling lights, and festive tipples.
But don't mistake it for any old Christmas record – the transcendent a cappella opener 'Sol Invictus' recorded with the Sense of Sound choir directed by Jennifer John, is haunting and hymnal, an ode to the Roman sun god and a celebration of the pagan rebirth of light. Gilmore's bell-like voice is joined by a steadily rising torrent of choral harmonies; it's a spectral, spine-tingling opener and an immediate statement of intent.
The 'Midwinter Toast' follows, with an arrangement that sets the tone for much of the album – gently plucked acoustic guitar, Fluff on gorgeous violin, subtle piano lines weaving in and out, and slowly building choral harmonies. Gilmore's husband Nigel Stonier provides some stunning guitar work, as Gilmore sings of church bells, angel hair, and lights. It makes you want to put on your Fair Isle knit and reach for a warm mince pie (in a good way, of course).
The ominous 'Cold Coming' is something of a volte-face, upending the warm beauty of the sound of 'Midwinter Toast' so that the guitars become electric, buoyed by a propulsive rhythm section, and Fluff's violin trades elegance for a spiky, scratchy quality reminiscent of PJ Harvey's 'Dress', before jumping off the edge into the vagabond gypsy style of 'Scarlet Rivera' on Bob Dylan's Desire.
Gilmore manages to tackle consumerism, paint Jesus as revolutionary, and evoke imagery from T.S. Eliot all in the same superb lyric. The chorus recalls some of her spunkier early material, such as the punk-folk of 2000's The Lipstick Conspiracies, but this is an altogether more mature affair, somewhat reminiscent of 'Black Letter' from Liejacker and a definite album highlight.
Gilmore and Stonier's spirited attempt at writing a Christmas 'hit' is in full force on the wry 'That'll Be Christmas' with tongue placed firmly in cheek (sample lyric: "A tired waiter in a stupid hat/muddy boots on the welcome mat/that'll be Christmas"). It's the biggest production number on the record, with smooth harmonies, programming, and electric guitar, but snuggles up well to the other, more sober material; a bonus remix appears at the end of the album, with added sleigh-bells for good cynical, ironic Christmas measure. Stonier's portentous 'Book of Christmas' which finds verse from Irish poet Louis MacNeice's Autumn Journal set to a twinkling yet somewhat sinister musical backdrop of vinyl crackles and treated keyboards, is perhaps the quirkiest number, with Gilmore's spoken-word delivery over a sketchy, off-kilter blend of keyboards, guitar, and bells.
The other original songs are all invariably superb. 'Drunken Angel' is, again, a song of elegant beauty – "winter tells its truth to anyone who'll listen/it will whisper to you slowly when the light is low," sings Gilmore on top of guitar and violin, as her harmonies with Fluff work to create a wonderfully melancholy, nostalgic atmosphere. Melancholy is also a word that immediately springs to mind when listening to 'December in New York', a jewel of a tune originally included on Gilmore's 2001 EP As If (and later on the two-disc version of Songs from the Gutter). This spooky new recording of the long-time fan favourite is the definitive one, Fluff's plaintive, yearning violin as richly blue as a heaving sob, with Gilmore's voice as clear as a winter's day and full of emotion.
The pretty 'Old December', a Stonier co-write, is a fine closer, with Fluff adding some suitably wintry recorder to this wistful, slow-burning tribute to the final month of the year. A pair of inspired cover versions are well-placed on Strange Communion. Yoko Ono's 'Listen, The Snow Is Falling' superbly captures the sense of a city at night in a silent reverie as winter falls; the atmospheric production of treated vocals and eerie, chilly synths, lends it a brilliantly ghostly effect. The rollicking 'St. Stephen's Day Murders', meanwhile, written by Elvis Costello and Paddy Moloney, is a bracing, rhythmic, pirate song of "laughter and tears over Tia Marias" – its most obvious antecedent of course being The Pogues and Kirsty MacColl's 'Fairytale of New York', and this is just as blackly humorous and with a wonderful Irish twist. BBC Radio 2's Mark Radcliffe provides the male duet vocal on this boozy album highlight.
Gilmore's career has never been played for commercial success, and the cottage industry style of her work perhaps best recalls the British folk legends of the 1960s and 1970s. As a result, she has rarely achieved mainstream attention, and an album like Strange Communion deserves to be more widely known and appreciated – it is as rich and emotive a Yuletide listening experience as you are ever likely to get, an album of often exquisite beauty but also not without a healthy injection of festive jollity (and typical Gilmore cynicism). On it, she merges the modern with the timeless, the religious with the secular, the festival with the seasonal. It's an album of rising suns, drunken cheer, and sentimental nostalgia, of peace and goodwill and missing loved ones, of faith, hope, and gluttony. Give it a spin this winter season, if you haven't already, and prepare to welcome this strange, beautiful communion into your life, as I do, each year.
Words: Matthew Barton