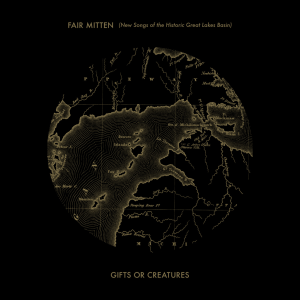 From an outsider's perspective, Brandon and Bethany Foote might well be mistaken for superheroes instead of a folk duo. Between job changes, relocating, and a free-roaming toddler to take care of, it's a wonder that they still can manage the time to write, record, and release an all-new full-length LP on top of it all. Yet, they have, and the end result is something as warm and compelling as fans would come to expect of the couple.
There's something more here, though, too, and that is in how the album has been composed. Instead of relegating themselves to more general themes of love, loss, and protest here as most other folk albums would, Fair Mitten decidedly takes a more regional turn. That isn't to say that those who aren't from Michigan won't be able to enjoy the record, but it does take the concept of creating a body of work wholly dedicated to its history and transforming it into a captivating, easily consumable album to spin.
Sonically, too, the duo have never sounded better. They have a full band comprised of other Mitten heavyweights this time around, from Seth Bernard (guitar) and Max Lockwood (bass) to Dan Rickabus (drums). Sharing lead and harmonies alike, the Footes handle telling the story of their beloved state with utmost care on the record. They lend an empathetic, chameleonesque heartbeat to the rich history of the Great Lakes Basin, from its high points, its lows, everything in-between, and the natural wonder that makes the state such a destination to behold for droves of travelers every year.
This is the same backcountry that has made everyone from Simon & Garfunkel and Gordon Lightfoot to the Avett Brothers and Accidentals deliver their own odes to the state, but never before have artists set forth to create something so completely and utterly Michigan in its bones. Each song is brimming with a certain sort of sincere love and truth for the Mitten that makes for a compelling listen for those even only just barely grasping a passing interest in the state. It helps that the listening comes easy, too, with gorgeous, lush harmonies and instrumentation just waiting to hold your attention around every corner.
All in all, Fair Mitten is Gifts or Creatures third release, as well as this writer's favorite so far. They've taken utmost care in representing their state and its beauty without shying away from its uglier moments. The end result is an ode to Michigan that feels utterly real, and one that might just convince those as far from the state as can be to pay a visit to its rivers, lakes, and roads one day much sooner than later.