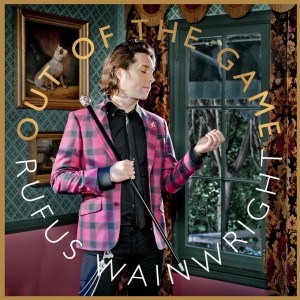 Rufus Wainwright's seventh studio album, released a full fourteen years after his first, shows an artist who's swapped addictions to crystal meth and chocolate milk for healthier appetites: fatherhood and a desire to make fully-fledged 'danceable' pop music, to name but two.
The contrast between Out of the Game and the rest of Rufus's work to date is pretty damn extreme: piano-heavy, orchestral numbers, frequently epic in scope and petrifyingly cultured in content, are replaced with a record which is three quarters glitz, and only one quarter tears and dirt.
We're not in the habit of reviewing records which list Elton John and Freddie Mercury amongst their influences, but Rufus Wainwright's the kind of guy for whom we will always make exceptions, and whilst some of these songs are wildly beyond For Folk's Sake usual cup of tea, fans of his earlier work will find plenty here to chill and warm the heart. The razors are just covered in diamonds now.
This is Wainwright's most polished and 'showbiz' album to date, and with Mark Ronson comfortably seated in the producer's chair, you won't be surprised to hear that it is, for the most part, out-and-out pop music.
Pop music with an edge though, have no doubt: bitchy showgirl tune 'Rashida' namedrops Ronson's ex Rashida Jones and her mate Natalie Portman, and is a masterclass in tongue-in-cheek spoilt brat celebrity. It's also features some magnificent vocal theatricals from Wainwright's female backing singers.
If you're a long-standing fan of Rufus Wainwright, and/or his extended musical family, you'll be interested to hear that this album is not dedicated to his late mother, Kate McGarrigle, who lost her battle with cancer in 201o.  Instead, in a thoroughly hopeful, forward-looking spirit, it's for his daughter Viva (whose mother is Lorca Cohen. Guess who her Dad is).
No fewer than three songs are explicitly for and about the littlest Wainwright: 'Welcome to the Party' exuberantly trumpets her arrival, making the sincere yet excitable promises of a brand new father. 'Montauk' follows hard on its heels, undercutting this unbridled joy with a picture of an older Viva, watching her dads (Wainwright's partner, German arts administrator Jörn Weisbrodt, is her third parent) make bad jokes and prune roses in their kimonos. Then, in 'Song for You', Wainwright pretty much promises her the moon on the plate again.  We're sure we'd do the same thing under similar circumstances.
Not yet had the pleasure of watching Helena Bonham Carter slap Rufus Wainwright in a library? Hop to it: