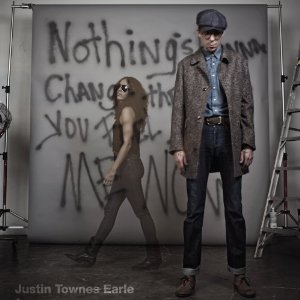 If Justin Townes Earle's young career reached its peak to date with 2010's Harlem River Blues, the follow-up offers us a note of caution. For all the fine work he'd done in separating himself from the considerable burdens that follow him around – the weight of his father's surname and the middle name he inherited from Townes Van Zandt – there is an obvious note of resignation in putting out a record called Nothing's Gonna Change The Way You Feel About Me Now.
The younger Earle allows father Steve into this album from the start, but not in a positive way. "Hear my father on the radio, singin' 'Take Me Home Again,'" he sings on the opening line. "Sometimes I wish that I could get away / sometimes I wish that he'd just call". What follows is a half-hour of occasionally fine country-soul, ranging from the rollikcing 'Look The Other Way' and the stomp of 'Maria' to the sweet whisper of 'Won't Be The Last Time'. The sound carries a Memphis accent to reflect a change in location for Earle, who moved on from New York but once again bypassed Nashville.
But the fact it is only half an hour, a breathless rip through 10 songs, fails to do several of these compositions justice, and you begin to wonder if the album name reflects a growing restlessness and frustration. The themes of melancholy and heartache are standard fare for the genre, but they begin to sound like more than just ticking boxes for a man who celebrated the release of his last, best album by getting arrested for battery and public drunkeness.
From all of this, we can detect a worrying pattern, not least if we once again allow the elder Earle – and all of his well-documented addiction problems over the years – to cast a shadow on our thinking. And worry we will, because when this album pauses for breath long enough, the very real talent Justin possesses is glaringly obvious. If he would take the time, he could make us think whatever he wanted about him.