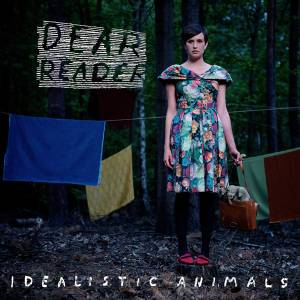 Hands up, who amongst us can name a South African band making waves in the indie scene? You? Me? No, didn't think so. It might feel awfully lonely standing in a crowd of one, where the association of yourself with an entire nation can change the faces of your fans into a mirror; everything becomes a most severe self-reflection as you are not just an artist, you are a people. Well, Dear Reader, you need look no further for this South African tide. Idealistic Animals is the album, and Cherilyn MacNeil the songwriter, to put South Africa firmly on the indie map.
The follow-up to 2008s hidden gem Replace Why With Funny, which contained the brilliant 'Dearheart', was written amongst the eerie cool of Berlin and recorded in the maudlin thickets of Leipzig and Portland. It retains the dark, orchestral infected, indie folk, which alerted listeners to the promise of MacNeils songwriting but a clear growth and maturity, can be discerned. The songs sound fuller and feel now as though they are being born in your dreams, rather than sung at the end of your bed.
Artistic nods are made to Laura Veirs, Mary Lou Lord, Elliott Smith, Bright Eyes, the Eels, Belle & Sebastian, and Regina Spektor, but Dear Reader is never in debt to any of these acts. The references are made with the tenderness of one confident in their own identity.
The great strength of Idealistic Animals though is the sheer excellence of the songs, all of which are so strong that the sole criticism that I can level, a sense of sameness, should be taken as a virtue. From the outstanding closing moments of 'MONKEY (You Can Go Home)', to the beautiful piano piece in the opening of 'CAMEL (Not Black or White but Camel)' and dreamy closer 'KITE (We'll Soon Light Up)' this is the work of a truly gifted pop songwriter, who sits in the addictive place found between the bitter and the sweet. This is the soundtrack to a youth cowed by thin air.
Words: Damien Girling