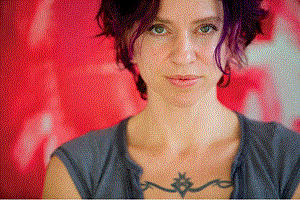 Ani DiFranco has been through enough re-inventions and reincarnations over the last two decades to give David Bowie a run for his money.From her debut as a wide-eyed, shaven-headed 20-year-old, through the tortured, angsty mid-90s and into a more mellow maturity, the self-proclaimed "righteous babe" has long been a chameleon of the folk world.It is fitting that Bowie's 65th birthday saw DiFranco kick off 2012 in style with an intimate solo gig on Brighton's seafront.
Home-grown pianist Carly Bryant opened the show, nervously smiling her way through a charming set, her cover of Blossom Dearie's Tout Doucement bringing to mind Fiona Apple and Charlotte Gainsbourg.
DiFranco then bounded on stage to storm through a selection of her vast repertoire, performed with as much skill and gusto as ever.
Songs from new record Which Side Are You On, her 17th studio album, sound fresh and intricate, and add to the overall reflective theme of the evening.
After a career of brutal honesty on the themes of sexuality, relationships and heartbreak, DiFranco seems to be reluctantly enjoying looking back at her younger self.
Now married for the second time and mother to a four-year-old daughter, she speaks of feeling settled and at peace with herself, and visibly cringes at the raging introspection of her early work.
But that's not to say that the 41-year-old has lost her edge. Her thirst for political change is as strong as ever, as she speaks passionately about the Occupy movements and her frustration at creaking democracy on both sides of the Atlantic.
On 'Promiscuity', a stand-out track from the new record, DiFranco smirks: "How you gonna know what you need, what you like / till you been around the block a few times on that bike?"
It's a lyric that is at once self-aware, cheeky, bold and mature, and it sums up the present mindset of this remarkable performer.
"It's nice to see you smiling," a member of the audience shouts during a break in the action. "Yeah, it's nice to be happy again," DiFranco replies. "It's taken me a while."
Sam Blackledge