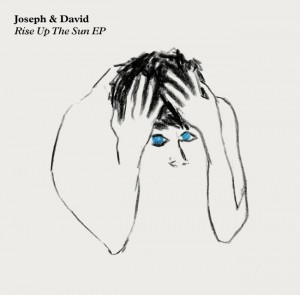 Joseph & David stand at a crossroads. There's enough impressive stuff happening on Rise Up The Sun, the second EP from the Leeds duo to suggest a bright future is all but inevitable. Quite where that future lies is slightly unclear.
Disconcertingly, opening track 'I'm Here', with its insistent piano, soaring vocals and epic leanings, sounds like Keane. There's no getting away from it. Even the repeated refrain of "Don't fear!" sounds like something that ought to be coming out of Tom Chaplin's mouth. Thereafter, though, things get substantially more intriguing, with the off-kilter slow burn of 'Borderline' and the jaunty Regina Spektor piano on 'Sleepy Heart'. This is a band with interesting places to go and equally interesting ways of getting there.
As the track with the melodica gives way to the track with the brass which is followed by the track with the ukulele, what is probably a laudable desire to experiment can feel a bit like indie-by-numbers about things. But when they get it right, there are thrilling moments – most notably the deconstructed backing on title track 'Rise Up The Sun', but also the moments the vocals sweep into a Jeff Buckley falsetto and the crashing crescendo of 'Falling Wood'.
Such is their clearly abundant talent, these two can go whichever direction they like. One way lies a diet of piano-led ballads, chart success and a surprising spell in rehab; the other contains artistic fulfilment, a devoted following and occasional tantalising glimpses at the big time. So, Joseph & David, which is it to be?
Words: Ali Mason