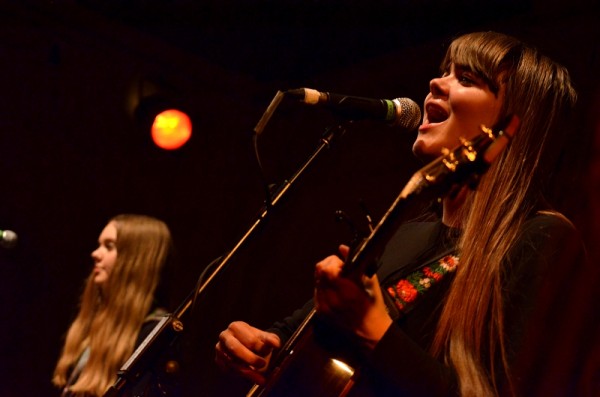 First Aid Kit are born performers. As I'm ushered through Bush Hall past the photos of the golden greats past and present, and into the Green Room which has seen the presence of Amy Winehouse, REM, Alanis Morrisette, Feist, Regina Spektor and many others, it seems like they should be there.
The young sisters have a confidence and an intelligence that belies their age, and performing comes naturally to them. Older sister Johanna remembers some of their early shows: from the age of about five they were putting on concerts for friends, family and neighbours, even down to making and selling tickets. They're so used to being on stage that nerves don't phase them. They've performed to audiences of thousands, and they've even sung one of Patti Smith's best songs to a huge audience which included the lady herself.
Johanna and Klara are coming to the end of an intense year of touring. They've been on the road for over a month now, touring with Lykke Li in November, and before that, Bright Eyes in September. I catch them in the middle of a four-day dash between Berlin, London, Paris and Amsterdam.
But they wouldn't have it any other way. "Playing live for people is such a giving experience for us. Seeing how people react to the songs and sing them when they know the lyrics," Klara says. "It's such a huge compliment to you, it makes you want to make more music and go on."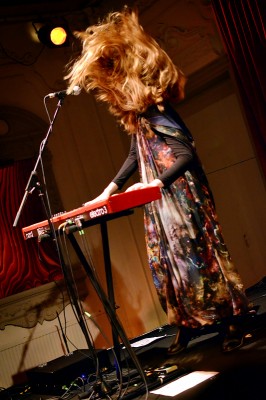 FAK rose to prominence with their cover of Fleet Foxes' 'Tiger Mountain Pleasant Song', which recently hit 2.5M views on Youtube. But it was Bright Eyes' Conor Oberst who has been been one of their great supporters. Johanna explains, "We're on Wichita [Recordings] here in the UK, and they released Bright Eyes' early records in Europe and so we had that connection, and [Bright Eyes] played in Stockholm with Monsters of Folk and so we gave them our CD, and I think that's where [Conor] heard us. And then he came to our show one year later in Austin, Texas. We were totally…"
"We freaked out, to be honest", Klara elucidates.
"And then Mike [Mogis, Bright Eyes member and producer] just wrote to us saying he wanted to produce a record," Johanna continues.
I asked them what it was like to tour with a band as big as Bright Eyes on their visit to the southern US. "It really is the best tour we've ever done."
"There are no words, " Klara chirps, "We got to hang out with our favourite band, who we'd play with every night."
Johanna expands, "We were not really like an opening act, we were more a part of their band. And after each show, we just stayed at the venue and had champagne… it was a big party every night. I think most bands wouldn't be like that, you know, friendly with their opening act."
"We found that they were just amazing, sweet people, they were really so passionate still about their music. They've been playing for such a long time, but it was just so sweet to see how they felt for their fans."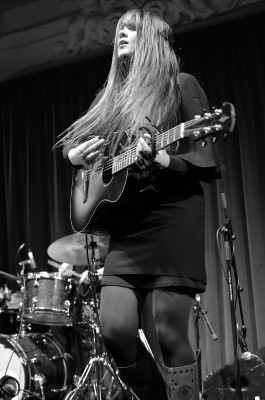 "And how every night they went out because there were fans waiting by the tour bus, and they would go out and talk to them, and give them the treatment that they wanted."
Bright Eyes formerly had a reputation of being rude and arrogant, but Klara is quick to point out that those times seem to be behind them: "It was really nice seeing it for yourself and seeing that they are the complete opposite of arrogant and rude."
First Aid Kit also embarked on a transatlantic tour with Lykke Li, I asked them how it compared to their autumn run. "They were different. She is very different musically, but it was interesting because we felt like the responses of the crowds were equally good, despite her audience being so different and people that who would never to listen to us in the first place, liked us. It was really rewarding to see that you won the crowds over every night."
These large tours, in bigger venues, and to bigger crowds, gave FAK a taste of their future. "It feels kind of weird now playing in the smaller venues, because we've gotten so used to that big sound. But it's good to know that our music works in that setting as well. Hopefully one day we'll be able to play our own shows there."
They also featured on the Letterman Show as part of Lykke Li's band, a performance which reached an audience of millions.
First Aid Kit recorded their second album in early summer, under the experienced eyes of producer Mike Mogis. 'The Lion's Roar' will be out in the UK in January 2012. Johanna is keen to let me know that, "writing songs and hearing them come to life in the studio is magical. You can't really beat that."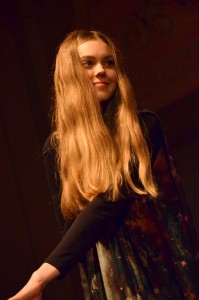 They were especially comfortable to be working with Mogis. "Coming in and recording this record with Mike was just… knowing that he thought it was so good, it made us believe it even more."
"We lost all concept of pressure because we felt that he would not release something he wouldn't consider good enough, and therefore it was it going to be good."
Their first album, 'The Big Black and the Blue' is an opus filled with tight vocal harmonies and catchy choruses, but it was only coolly received by the critics due, mainly it seems, to its musical simplicity. It was released two years ago,
and FAK's sound has developed since then. Johanna says: "I think that's what we were able to do at the time. But I feel like I can barely listen to it now… it's really hard. I can really hear that we've become better singers, and just better in every way. But I think when we go back to it… I'm not like ashamed of it. I think it's good, but I feel like we were different then."
Klara agrees, "I think it's probably because it's still so close, but still feels like it's far away. I feel like we're still in this middle place, where we're so excited about this new record it's hard to listen to [the previous one]. When I listen to it, it's very apparent to me who I was trying to sound like in some ways. And I feel like I hadn't really found my own voice, and that's something that's not a problem any more. We both feel like we know when we sing now we're not trying to sound like anyone else."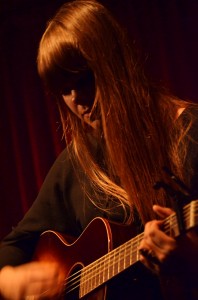 'The Lion's Roar' promises to be as vocally strong as the first album, and carries the same lyrical themes of fantasy and storytelling: 'The Big Black and the Blue' told stories of husbands cheating on wives and other experiences Johanna and Klara had not been through directly.
'The Lion's Roar' will be similar, as Johanna explains, "We're singing as a warning to ourselves about who we don't want to become. Like, we have a song called 'Blue' about this woman who is alone…"
Klara interjects, "It's us dealing with this fear of becoming these middle-aged woman who regret what we didn't do. We're ending up lonely, despite doing everything we can not to. I feel like that can happen to anyone, and those songs are just our way of dealing with that fear."
'Blue' is an example of the more evolved sound of FAK, too, "[It] has more of a pop, like 60s, kind of sound. 'Dance To Another Tune' is a song where we kind of freaked out a bit. We did a bit of a crazy section, psychedelic with strings. Just tried to move out of our comfort zone a bit. And of course, 'King of the World' with Conor Oberst, was a big deal for us. The song is… the Felice Brothers are also playing on it, so it's this…"
"Collaboration…"
"Yeah, it's like we're having a party. Everyone just steps in, and I love how it turned out."  Klara says, "I feel like we could say this about every single song on the album. This song we really like because of this, and this, and that's really how we feel about it. There's not one song we aren't really proud of. We feel like they all have a lot to say. We're really proud of them individually and as a whole."
The future is looking bright for First Aid Kit, and at ages of 21 and 18, there's plenty of time left for musical development. "I feel like we're evolving, and doing new stuff. We're going to do it as long as it's fun, and it's a lot of fun right now, so I don't see us quitting any time soon," Klara says.
Johanna is of the same mind, "The thing that we think is awesome is that we're still very young, so we don't really know what's going to happen, and how we're going to sound in 10 years. It could be really interesting."
FAK's album, 'The Lion's Roar' is out on 24 January 2012, and they will be embarking upon a European tour in February, followed by a trip to Australia and a further tour of the US in March and April. 
Words and pictures: Paul Woods