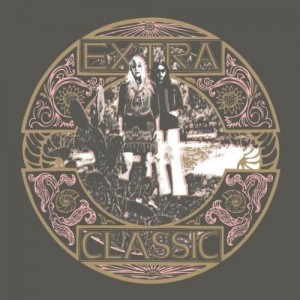 Extra Classic hail from home-of-counterculture San Francisco. Some of the six band members have previously played with The Papercuts and Casiotone For The Painfully Alone, and as recently as 2007 were supporting Modest Mouse and Conor Oberst. So far, so perfectly suited to the FFS affiliated listener. They've also thought up the ace name of Your Light Like White Lightning, Your Light Like A Laser Beam for their debut album. Even better.
With this in mind, recording an album consisting mainly of Jamaican-style 70s reggae was perhaps not the most obvious choice. If you have a note from your doctor documenting an incapacitating allergy to reggae, you are permitted to stop reading now. If you're willing to give anything a try then this is probably a
good place to start.
They've gone for that authentic Jamaican sound, recording the whole album on 8-track using analogue equipment from the 60s and 70s, and it sounds all the better for it. Opening track 'Congo Rebel' ticks all the classic reggae boxes – summer vibes, some skanking dub, nifty funk guitar, a quite beautiful female vocal and a smidge of politics. The album continues in that vein, adding vocal harmonies, relaxed psychedelia and some really quite amazing space-noises between songs. These guys are definitely talented musicians.
Just when your interest starts to wane, and you're beginning to feel like you're stuck in the Glastonbury green fields with a bowl of chickpea curry listening to some old hippy tell you about the good old days, the mood changes. The dub bass disappears, replaced by what sounds like a 60s soul-laden version of Beach House. 'Angel Eyes' and 'Give Me Your Love' are easily the most accessible songs here, with swirling Hammond organ and sweet vocals from Adrianne Verhoeven. It's an interesting choice to place them at the end of the album.
If you have a real aversion to reggae you're probably not going to give this a chance, but that would be a shame. There's an awful lot to like here, and if Extra Classic had turned their hand to folk this would be a rave review. It'll be interesting to see what they do next.
Words: Natalie Roberts