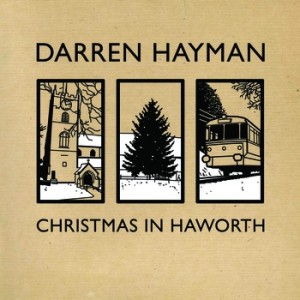 The Christmas album comes with all sorts of pitfalls in which to fall headfirst or to stand in proudly, arms akimbo. Even the most earnest of performers can put out some jingly-jangly tune to suit the season of merriment. But the best Christmas records to my mind are the ones that, although the seasonal theme is still essential, are driven by the need to tell a good story and sing a good tune – from classics such as 'Fairytale of New York' to cult numbers like John Prine's 'Christmas in Prison' (and its fantastic Emmy the Great cover).
The songs on Darren Hayman's Christmas in Hayworth might not quite stack up along side those all-time classics but it's in the same camp – personal, heart-felt, uncommercial (The Pogues' popular success is, of course, just an accident of history). Christmas in Haworth is a bespoke effort, put together (it seems) both quickly and lovingly, the sort of gift you wrap hastily on Christmas Eve but nonetheless choose wisely and with a loving eye.
Of course, as with Hayman's January Songs project at the start of the year, it is this bespokeness that is central to the record's charm. A lot of this relies on Hayman's relationship with his audience. His music has felt very personal and very direct for a long time now, which has given him the space to release material like this – the sort of set he could have written for the seasonal gathering of a folk club and performed under some tokenistic Christmas lights in the band room of a London pub. Indeed maybe that's just the sort of setting he'll use to perform these songs over the coming month or so.
Where there's a story in these songs, that story seems personal and low key. Darren Hayman has made his music in the same mode. It's an unusual move for a Christmas album and is not for those seeking a party soundtrack. I might even reluctantly call it an antidote to the typical Christmas record – no bells, no whistles, no tinsel-covered snowflakes. But full of Christmas nonetheless.
Words: Tom Moyser
Darren Hayman's 'Lost In The Snow' from this EP features on our For Folk's Sake It's Christmas 2011 compilation, which is being sold to raise money for the Integrated Cancer Centre at King's College. You can find out more, click here. The video for the track is below.
Lost in the Snow from Darren Hayman on Vimeo.